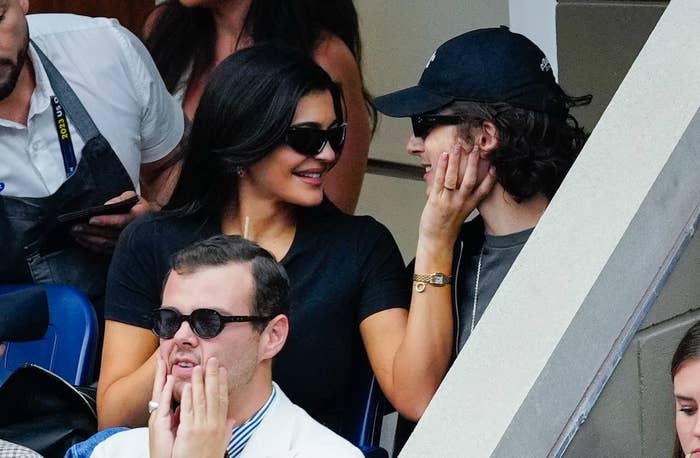 News of Kylie Jenner and Timothée Chalamet's rumored romance had the world in disbelief... until now. The highly private couple were seen having a major PDA moment at Beyoncé's Renaissance concert, not shying away from onlookers as they publicly announced their union.
The romance comes as a shock to many who never pictured them together. At the beginning of 2023, Jenner was fresh off a break from a long-term relationship with Travis Scott, with whom she shares two children, Stormi and Aire.
According to US Weekly, Jenner and Scott split up before the New Year, ending their five-year romance. A source insinuated that the two had different priorities, as per People magazine . "Kylie is very focused on her kids and her business. She is not a big partier. Travis is the opposite. He likes to party. They definitely have different focuses. They always did," the source shared.
As for Chalamet, the movie star was previously romantically linked to HBO's The Idol actress Lily-Rose Depp for some time. After dating from 2018 to 2020, they briefly rekindled in 2021. In a GQ interview, the actor referred to her as someone he really "loved" in 2020.
In April 2023, TMZ reported that Jenner and Chalamet were Hollywood's newest couple after paparazzi snapped pics of her notable black vehicle at his Beverly Hills home.
Their relationship was kept under wraps until Scott hinted that Jenner had officially moved on after he dissed Chalamet on a track from his latest album, Utopia. "Chocolate AP and chocolate the Vs, got the Willy Wonka factory./Burn a athlete like it's calories, find another flame hot as me," Scott rapped on "Meltdown"—nodding to the actor's upcoming film, Wonka.
Since then, the couple has been out together multiple times, marking their territory on one another with cuddles and kisses in public. Here's everything we know about Jenner and Chalamet's new fling so far.
The Couple Have Their First Sighting Together
Date: January 25, 2023
Sources caught a glimpse of the two's interaction at Jean Paul Gaultier's show at Paris Fashion Week. In a video posted on X (formerly known as Twitter), the two laughed as they had a conversation.
Jenner Is Seen at Chalamet's Home
Date: April 13, 2023
Toward the end of April, TMZ reported seeing the billionaire's black Range Rover at the Golden Globe nominee's mansion in Beverly Hills. Paparazzi snapped the mother of two, pulling into the driveway. The two seemed to be keeping things private as neither had publicly spoken on the fling yet.
Scott Disses Chalamet in New Track
Date: July 28, 2023
As many fans tuned into Scott's highly anticipated fourth studio album, Utopia, many noticed Scott's slight diss to his ex's new boo in "Meltdown" featuring Drake. "Chocolate AP and chocolate the Vs, got the Willy Wonka factory./Burn an athlete like it's calories, find another flame hot as me," Scott rapped. Fans quickly took the song as a diss toward the actor since his newest film, Wonka—a coming-of-age story based on chocolate maker Willy Wonka—is slated to hit theaters soon. Scott's nickname is also widely known to be "La Flame," which he uses to refer to himself in the bar.
Upon the song's release, Jenner and Chalamet's romance was still under wraps. But leave it up to a world-famous rapper for an ex, to tell it all in a song—which seems to have happened quite a few times to the Kardashian/Jenner clan.
Inside Sources Speak Up on the Relationship
Date: August 28, 2023
As rumors continued to rise, inside sources spoke on the seriousness of Jenner and Chalamet's relationship, saying that they were keeping things "very casual," per US Weekly.
They also noted that the pair had conflicting schedules that separated them. "Kylie and Timothée haven't been spending that much time together recently because they both have very busy schedules. But they're still communicating on a pretty regular basis and have remained friends despite the fact that they don't hang out that often," the source said.
"They run in the same circle of friends and have a great time when they're together, but it's not that serious," the insider added. "Kylie is having fun, and although she's open to seeing where things go, they're not in a committed relationship. Things are very casual."
Jenner Is Spotted Leaving Chalamet's Home
Date: August 23, 2023
The beauty mogul was seen at Chalamet's place yet again. The Daily Mail obtained photographs of the socialite's two-toned Mercedes-Maybach at the 27-year-old's home in Beverly Hills. She was then followed by her security team in a black Escalade.
Earlier in the month, rumors circulated that the two broke up, but they were quickly shut down after sources spoke on the matter to TMZ.
The Couple Hard Launch at a Beyoncé Concert
Date: September 4, 2023
In early September, Kylie and Timothée stepped out for their first public appearance at Beyoncé's L.A. Renaissance concert. There was no hiding their affection from spectators as they made their love pretty evident. The two's affection for each other was on full display as they were seen hugging each other, and even having a makeout session with cameras rolling. The pair were in a star-studded VIP section with Jenner's sisters Kim, Kendall, and Khloé, in addition to Lori Harvey, Justine Skye, and Justin and Hailey Bieber. Chalamet's Dune co-star Zendaya also attended the concert with Tom Holland.
Jenner and Chalamet Attend NYFW Together
Date: September 9, 2023
Following their PDA-filled debut, the private couple was then spotted at an NYFW dinner together. A viral TikTok surfaced of the pair as Kylie accompanied the Academy Award nominee as his plus-one to Haider Ackermann and Augustinus Bader's occasion. In the video, the two were seen sitting next to each other in matching black outfits.
The Pair Pack on the PDA at the U.S. Open
Date: September 10, 2023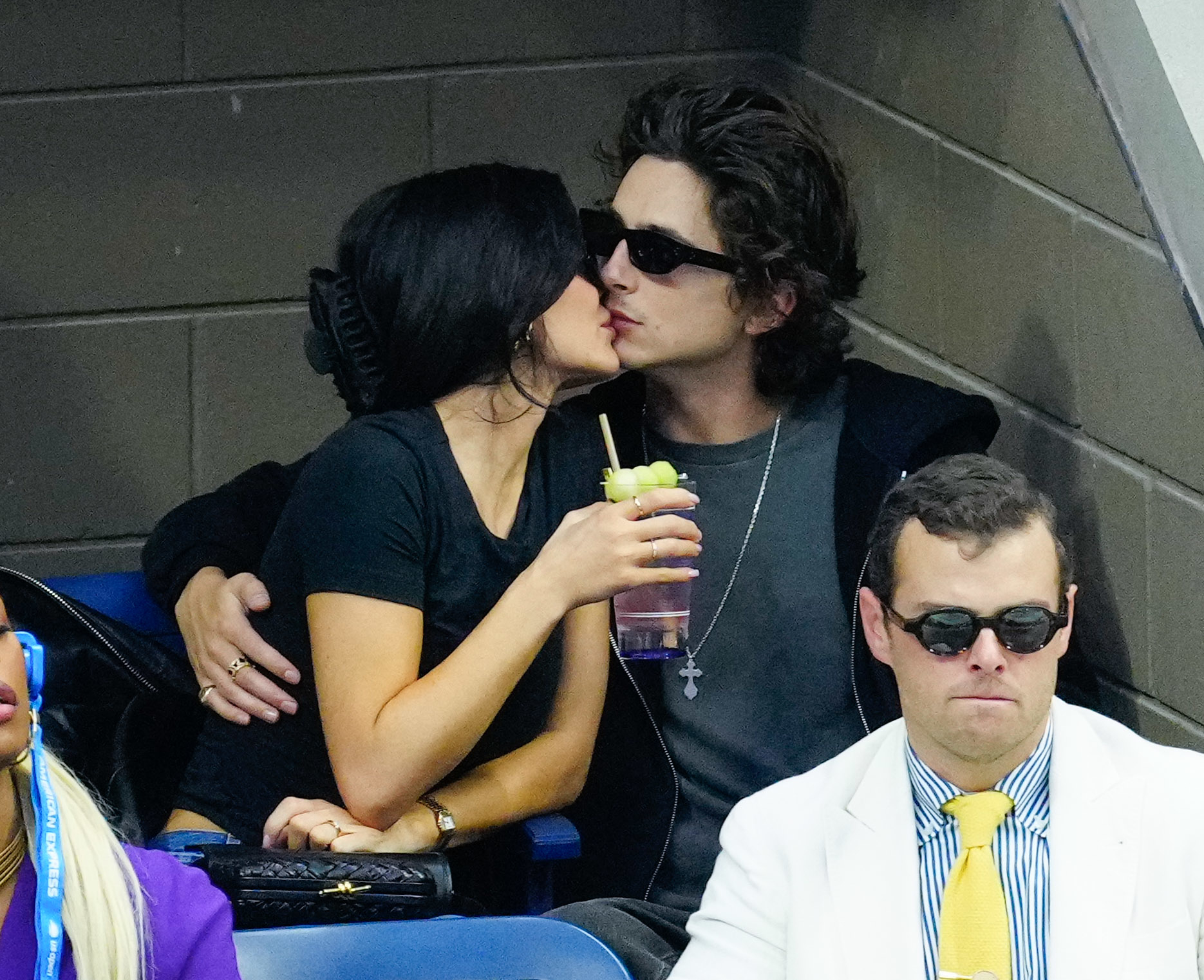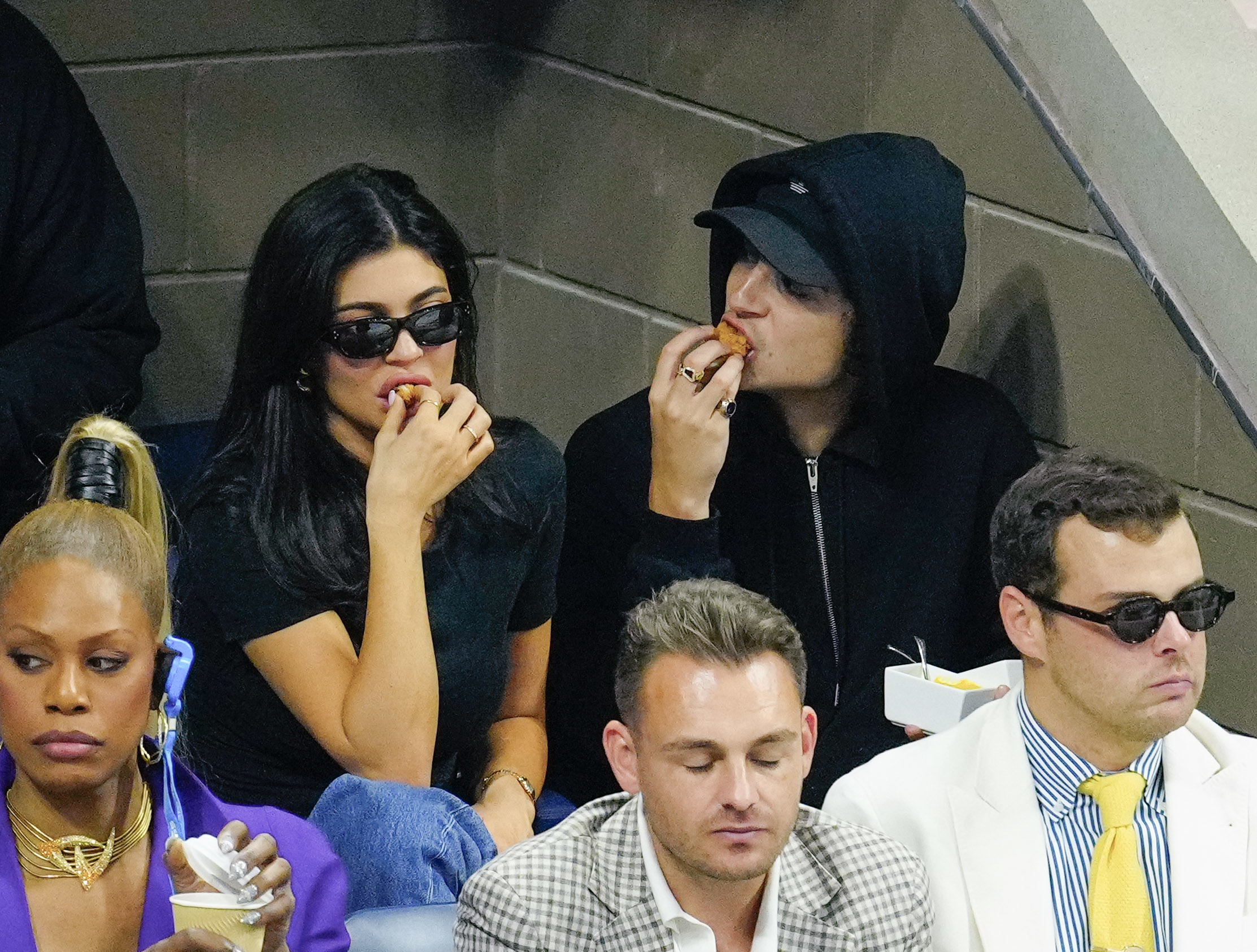 Jenner and Chalamet's public outings continued, as they were then spotted at the U.S Open Finals in NYC. The two were pictured super cozy as they locked lips once again. They were all smiles as they snapped pics together, laughed, and ate stadium cuisine, enjoying their date out together.
The pair have yet to publicly speak about their relationship, but their latest excursions tell it all.