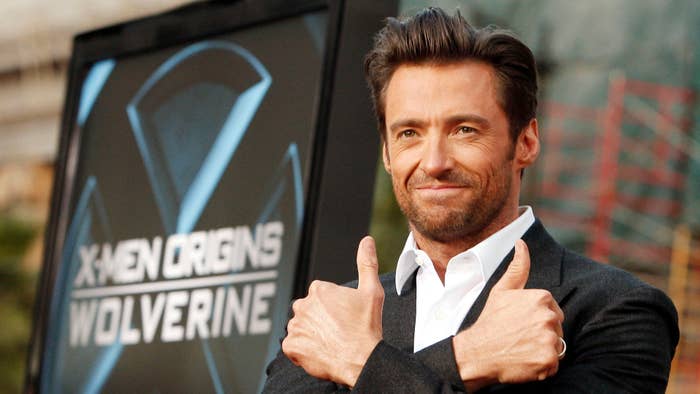 Hugh Jackman is widely known for portraying the fan-favorite X-Men hero, Wolverine. The actor played the ferocious super mutant for over two decades, appearing in nine Marvel films and multiple cameos. The star received endless praise and success while working with Marvel, but the demand for the role ultimately took a physical toll on the actor. 
Recently, the star chatted with BBC's Front Row and revealed that he might have damaged his voice cords portraying the animal-like character. "I've done some damage to my voice with Wolverine," he admitted. "My falsetto is not as strong as it used to be, and that I directly put down to some of the growling and yelling."
He admitted that his drama school teacher would be "horrified" knowing he that strained his voice playing the character. 
"I work with a singing teacher, and I try not to hurt myself. I put a lot of effort into both physical movement and my vocal preparation for every role," he added.
In 2017, Jackman officially stepped away from the role with his final film, Logan, which put Wolverine to rest in MCU– or so we thought. 
Last year, Ryan Reynolds announced Jackman's return to the MCU as the badass canine, appearing in Deadpool's highly anticipated third installment. 
Jackman discussed reprising his role on the latest episode of Who's Talking to Chris Wallace? and said he first turned Reynolds down. "I was at peace with [the death of Wolverine]. I got asked every day, either in interviews or Ryan Reynolds [saying,] 'Can we do it again?' and I'm like, 'No, I'm done.'"
He continued: "When I keep thinking of me and Ryan, of Deadpool and Wolverine, which are classic comic-book rivals, there's also a dynamic that I've never really got to do before as Wolverine. I just thought, 'This is gonna be fun. Something I've never done before. I can't wait.'" 
Reynolds and Jackman are prepping for the film and working on their physiques. Jackman took to his Instagram two weeks ago to share a friendly competition with his co-star. Alongside his trainer, Beth Lewis, Jackman is seen flexing his muscles by performing dumbbell curls, and tagging Reynolds. "He's only 46, and I'm older. But it's not a competition," Jackman captioned the post jokingly. 
Deadpool 3 will be Marvel's first R-Rated film, which is set to hit the big screen on November 8, 2024.