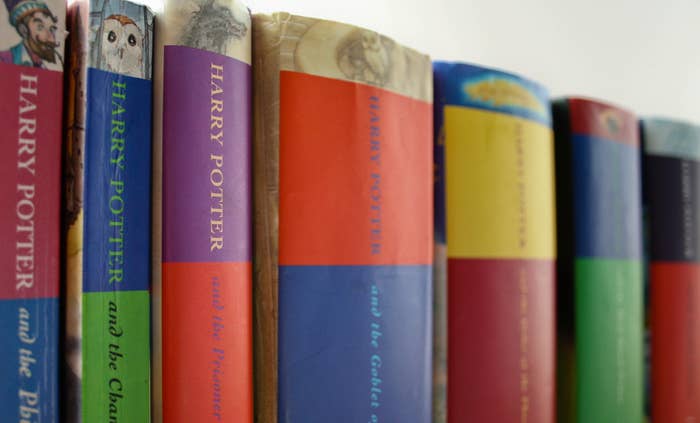 UPDATED 4/12/23, 2:35 p.m. ET: Following rumors of a reboot, Warner Bros. Discovery has confirmed that a new Harry Potter series will be heading to the streaming service formerly known as HBO Max.
The company officially announced the series on Wednesday, and it will feature an entirely new cast portraying the characters from the book series. Each season will be based on one of the books and will be more "faithful" than the highly successful movies. J.K. Rowling is on board as executive producer, despite her embrace of hateful transphobic rhetoric.
"We are delighted to give audiences the opportunity to discover Hogwarts in a whole new way," said CEO of HBO and Max Content Casey Bloys. "Harry Potter is a cultural phenomenon and it is clear there is such an enduring love and thirst for the Wizarding World. In partnership with Warner Bros. Television and J.K. Rowling, this new Max Original series will dive deep into each of the iconic books that fans have continued to enjoy for all of these years." It's unclear when the show is expected to debut.
See original story below.
A Harry Potter reboot is getting closer.
Warner Bros. Discovery is reportedly close to finishing a deal to take another swing at the book-turned-blockbuster. Bloomberg writes that the company is in talks to turn the franchise into a TV series in the near future.
Citing "two people with knowledge of the matter," the outlet writes that each individual season will be based on one book from J.K. Rowling's bestselling seven-novel saga that ran from 1997's Harry Potter and the Sorcerer's Stone through 2007's Deathly Hallows. Warner CEO David Zaslav and HBO head Casey Bloys have evidently "worked to convince Rowling to produce" for quite awhile, and to ensure the project honors her source material, but the embattled author "will not run the show day to day or serve as its primary creator."
Variety adds, "[Warner Bros.] is hoping the series can be one cornerstore of a new streaming strategy that will be announced next week."
News arrived over two years ago that a series was in early development at HBO Max and WB, and was seeking writers. Rupert Grint, famously known for his role as Potter's best friend Ron Weasley, said this year that it's time to let others bring the iconic tale to life—ideally on television.
"I'd love to see Harry Potter be adapted into a TV show," the 34-year-old told British GQ in January. "I think it would really work. I'm sure the films will get remade, anyway." He continued, "I think there'd be a feeling of passing the baton, letting someone else play Ron. It's weird because I'm protective over him, I could relate to him so much, and then I was picked to bring him to life. That's hard to let go. But it would be nice to, as well."
It's been almost 12 years since Harry Potter and Deathly Hallows: Part 2 premiered in theaters, earning over $1 billion at the box office. The franchise made nearly $8 billion in total, and its three Rowling-written Fantastic Beasts prequels have earned over $1.87 billion.
In 2021, Daniel Radcliffe shared his hypothetical Harry Potter dream roles as an adult. "I would probably want to go with, like, Sirius [Black] or [Remus] Lupin," said the now-33-year-old. "Those were always the two characters that I was like, 'They're great.'"