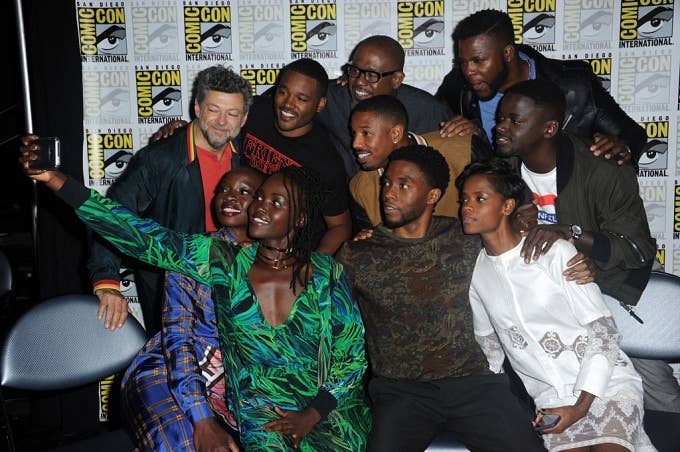 The anticipation for Avengers: Infinity War might just be at a fever pitch. Along with a set of 15 covers depicting 22 heroes, Entertainment Weekly has been dropping exclusive photos and behind-the-scenes goodness after spending a few days on the film's set, not to mention the sneak peeks the actors themselves have been sharing across social media revealing just how important Black Panther's homeland of Wakanda will be.
Thursday, Chris Evans shared a shot featuring a few of the most important Marvel mainstays standing in what looks a lot like the savannas of Wakanda. "Dangerous," the photo's caption said.
While many were speculating on the significances of Black Panther's role in the new film, it's becoming more clear that Wakanda will be the sight of one of the most important battles in the Marvel Cinematic Universe. And when you think about it, it's the perfect place for an intergalactic showdown. Black Panther sees T'Challa committing himself to helping those beyond the powerful country's borders more often, and getting everyone from Iron Man to the Hulk involved to hit back against Thanos' army will be a good place to start. Inviting outsiders into their borders might be new, but T'Challa welcomes Captain America, Thor, Vision and more to keep everything under control. 
"Cap makes the decision to bring [Vision] here to Wakanda," says co-director Anthony Russo. "Earth is making its last stand to keep the [Soul Stone] from Thanos. It's the best place to make your last stand."
In another exclusive photo, Shuri, played by Letitia Wright, appears in a scene alongside the Hulk and Scarlet Witch.  "Her look would match nicely with the orange Soul Stone," the caption teased.
As some savvy viewers pointed out, Black Panther did not make any mention of the Soul Stone even though comic book canon would place it in Wakanda, but it's very likely Infinity War will address it, helping to make sense of why the battle is taking place there to begin with.