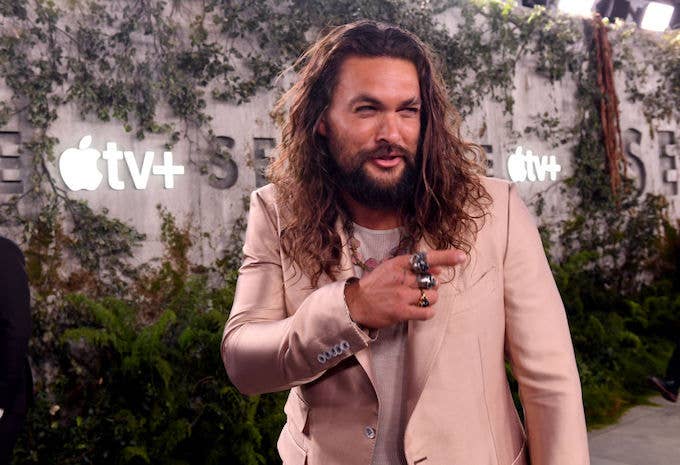 UPDATED 12/4/2019 5:45 p.m. E.T.: Chris Pratt has responded to Jason Momoa's water bottle criticism after the Aquaman actor apologized over his comments being "received so badly." Momoa posted a picture of his kids, Pratt, and himself with the apology. "BRO you know my children and I are madly in love with you and I love everything you do," he wrote. "I'm sorry this was received so badly today I didn't mean for that to happen. I'm just very passionate about this single use plastic epidemic."
Pratt later caught wind of it all and apologized.
"Aquaman! You're completely right," Pratt wrote. "Dammit. I always carry my big gallon size reusable water jug around with me too. I even had it that day!!! If i remember correctly somebody threw that plastic bottle to me in the photo shoot cause I didn't know what to do with my hands! I never know what to do with my hands! So uncomfortable. For real tho. Love you buddy. My bad. I don't want your home of Atlantis covered in plastic. Hear that kids? Reduce. Reuse. Recycle."
Turns out Jason Momoa takes his role as "Protector of the Seas" pretty seriously.
The Aquaman star had a few words for Chris Pratt, who posted an Instagram ad of himself working out for Amazon. "You're probably wondering why I'm standing here, low key flexing, gazing into the distance," The Guardians of the Galaxy star wrote Tuesday. "Well, turns out I'm teaming up with Amazon to show you guys everything I use for my workouts, keeping active, and all that fun stuff to get you prepped for 2020."
Momoa took exception with the post, not because he has a problem with Amazon, but because of the plastic water bottle Pratt is holding in the picture.
"Bro I love u but wtf on the water bottle," the actor wrote under Pratt's post. "No single use plastic. Come on."
Momoa isn't new to this. Back in April, the Game of Thrones actor shaved off his beard in an effort to raise awareness about recycling and the environment. He also once refused to shoot Aquaman 2 in protest of a construction project that was happening on Hawaii's tallest mountain in August.