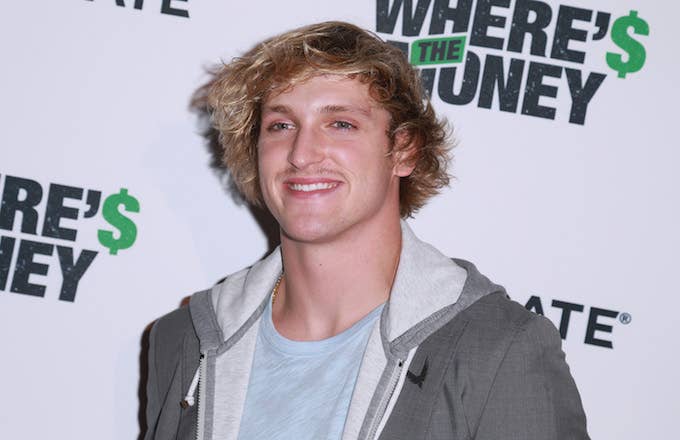 Logan Paul has always been trash. Some people did not formerly agree but after he filmed a suicide victim in a forest for a vlog on his YouTube channel earlier this week, it seems like everyone has finally realized just how bad he sucks. Aside from his personal reputation being pretty much in shambles right now, some unsuspecting parties have apparently been caught up in the negative press and are not too happy about it. One such instance of this is an insanely angry press release from sportswear company Maverick Apparel, AV Club reports.
The company is claiming that Paul "hijacked" the brand's name. For those who do not know, which I am sure is most people, Paul has his own clothing line called Maverick by Logan Paul. Well now, the original Maverick Apparel company, who produces gear centered around trail running and hiking, is claiming Paul's recent controversy has hurt its sales. Despite citing an outlandish claim of $4 million in lost profits due to Paul's bad reputation, the brand gave Paul the ultimatum to change the name of the brand in a week or face legal action.
In a letter addressed to the social media personality, the sportswear company writes, "Maverick Apparel has noticed a rapid and significant decline in its sales, reputation and goodwill of the Maverick Apparel brand as a direct result of your repulsive, abhorrent and mutton-headed conduct. In choosing to promulgate yourself and your maw-wallop across social media and champion yourself as an object of ridicule, hatred and contempt, you have simultaneously infected the good name of Maverick Apparel."
The letter would go on to state Paul's name is, "synonymous with racist, anti-Asian, and homophobic sentiments, and most recently, a belligerent insensitivity to suicide."
Clearly, no company wants to be tied to this type of behavior. Paul has received massive amounts of criticism for his since-deleted vlog video from Japan's Aokigahara forest, nicknamed "Suicide Forest," in which he included footage of a suicide victim.