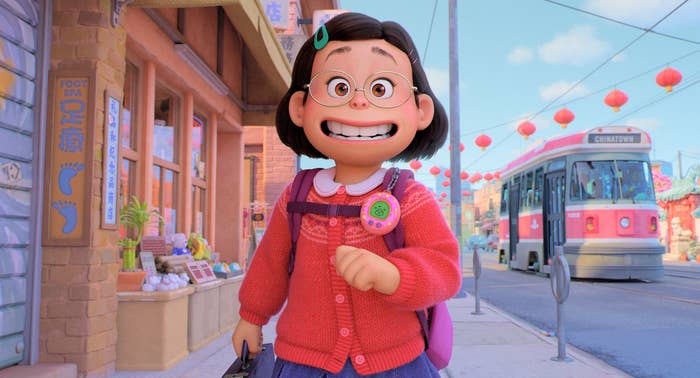 Canadian director Domee Shi made Toronto proud when she took home the Oscar for best short for Bao in 2018, and now she makes history not only as the first Asian woman to direct a Pixar feature, but also as the first woman to direct a Pixar movie alone with the Toronto-set Turning Red. 
The city of Toronto splashes across the screen in bright colors, showcasing the 6ix's iconic landmarks, including the CN Tower, the TTC streetcars, Chinatown, and the Rogers Centre. It's Shi's eye for textured design and unique animation style that gives it a different feel than the other Pixar films. 
Set in 2002, the movie follows Meilin Lee (voiced by newcomer Rosalie Chiang), a dorky, confident 13-year-old who excels in school, tries to be the perfect daughter at home, and has a close-knit group of friends. However, one day Mei finds out that when her emotions get the best of her, she turns into a giant red panda.
At the core of the coming-of-age story is the mother-daughter relationship that is heartfelt and relatable. The movie will also hit home for Asians, South Asians or immigrant kids who grew up in a household like Mei's. It's something countless Torontonians will be able to see themselves in—despite a recent controversial CinemaBlend review where a white male writer slammed the film for being "unrelatable" simply because he couldn't identify with any of those demographics.
But just as relatable is Turning Red's universal theme of growing up and coming into your own during the transitional phase of being a teenager. 
The cast also includes two familiar Canadian talents: Sandra Oh as Mei's helicopter mom, Ming Lee, and Never Have I Ever's Maitreyi Ramakrishnan as one of Mei's friends, Priya. 
Shi, along with Oh, Ramakrishnan, Chiang, and producer Lindsey Collins were in Toronto on Tuesday for the Canadian premiere of the film ahead of the Friday release on Disney+. We caught up with the cast and director to discuss the importance of this film, animating the rich multiculturalism of Toronto, mother-daughter dynamics, and more. 

Love Letter to Toronto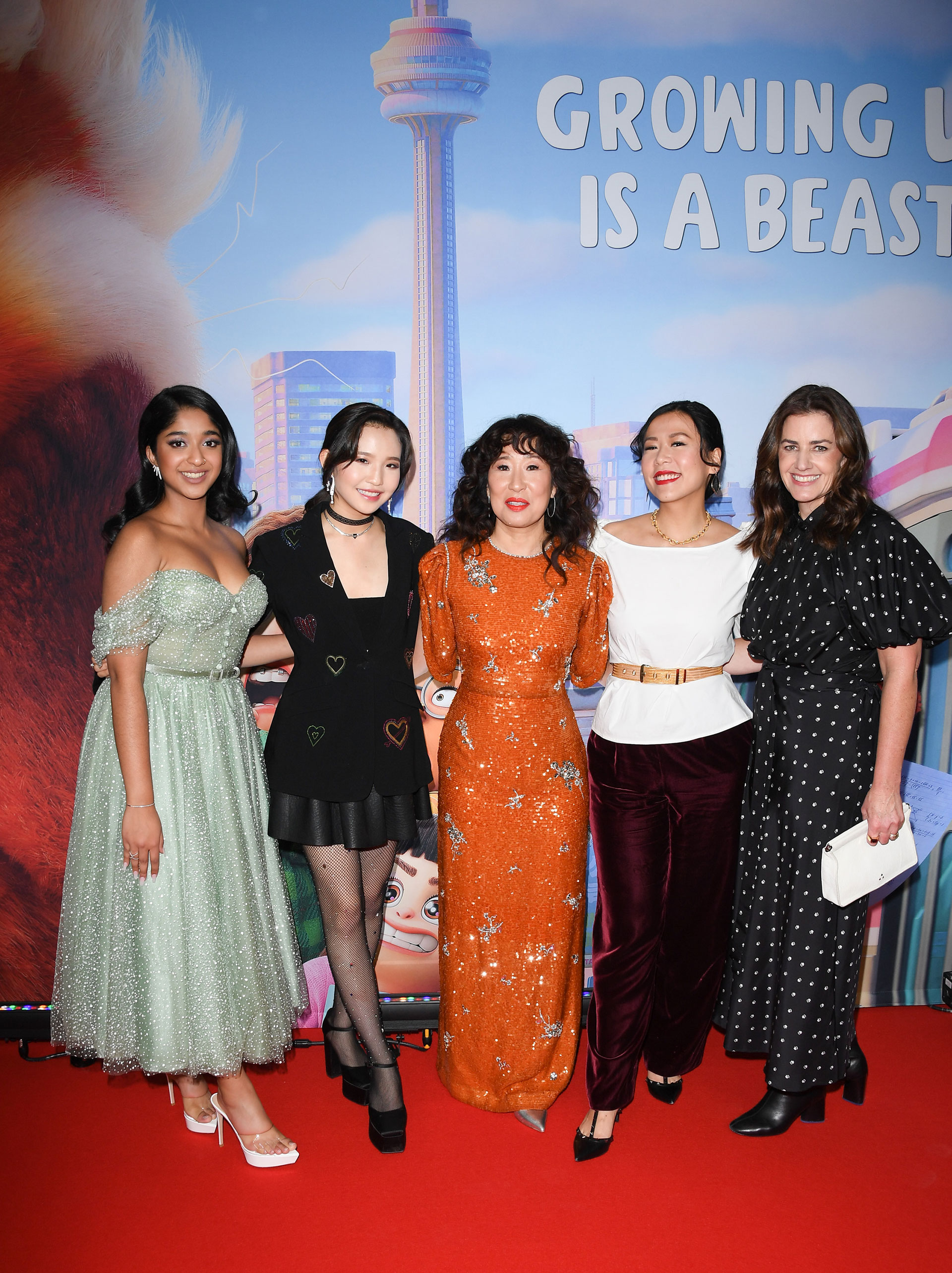 Ottawa-born Oh spent some of her early 20s in Toronto, which was in the early 2000s, when the movie is set, so seeing that era of the city lit up in the Pixar world was quite a treat for her. "I used to live just north of Kensington Market, you know what I mean? I would say that I spent my early 20s here; a very, very, very formative time, with a lot of friends. For me, it was all about Toronto fringe, and trying to make one piece of pizza last three meals. It's a very, very, very precious, exciting time." 
Oh pauses and gets excited at the idea of Chiang living on her own some day. She turns to the 16-year-old sitting beside her during the interview and says, "I can't wait for you when you leave home and finish university or wherever school and then you go live on your own for the first time."



"I felt so lucky growing up in Toronto, surrounded by so many different kinds of people that it never felt like a big deal. Like, where I was from, or my family, or the types of food that I ate. Hopefully you see that on screen." – Domee Shi
Oh continues, "So, you know, all the landmarks, because the film is set in 2002—so that's closer to my time when I was in Toronto—it's just so exciting to see Toronto up on screen. Domee Shi, our director, who went to Sheridan, it's her love letter to Toronto."
Shi, who currently lives in California, is incredibly grateful for the diversity she was able to incorporate in the animation, which she admits was quite tricky. "I felt so lucky growing up in Toronto, surrounded by so many different kinds of people that it never felt like a big deal. Like, where I was from, or my family, or the types of food that I ate. Hopefully you see that on screen. The fact that Mei's family is Chinese is like a fun, specific detail. We were able to kind of incorporate it in such a natural kind of way and I'm really proud of that."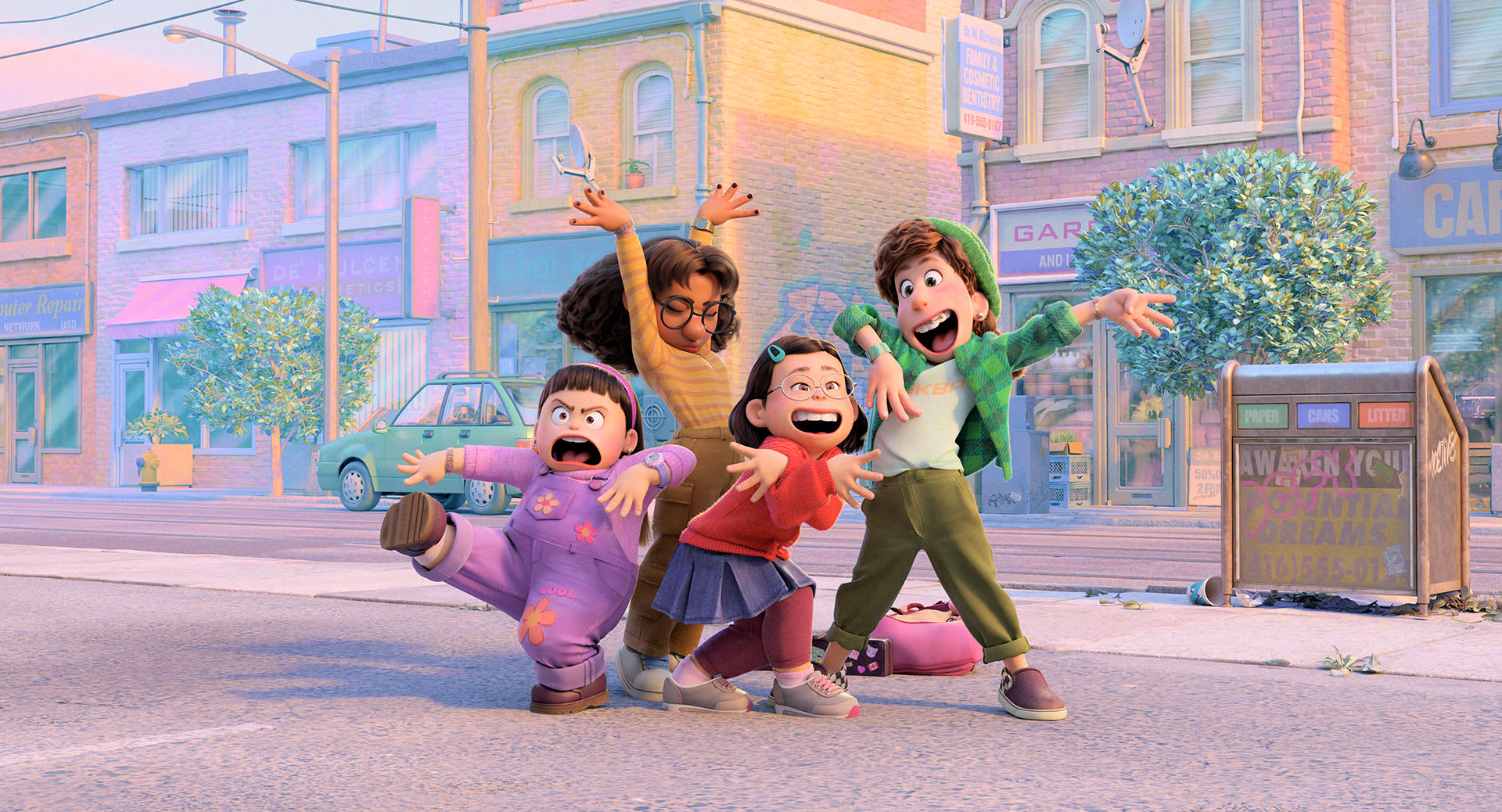 Speaking on the tricky aspect, she shares: "I'm really excited and proud that the crew was able to capture the diversity in Toronto and diversity is really important, but it's actually hard to do in CG animation, because every new variation of hairstyle, skin color, body shape, and all that has to be made by hand, by an artist. When you watch the movie, and you see all the shots of Toronto or the shots of Mei at school, or even like in her friend group, I feel like it reflects the real Toronto, which I'm really proud of."
California native Collins is a producer on the film and reveals she learned so much about Canada while making the film, and moreover the grading system, which would have placed her as an honour roll student. "The most important thing is that I could have been an A student in Canada," she says. "And I say that because in the United States, we grade in a way that if it's in the '80s it's a B, right? And if it's in the '70s, it's a C. Well, there's a moment in this film where you see her grades under the bed because she's hiding her kind of bad grades, and they put it on there and they were like 75 percent, it's a B—and I was like, 'That's a C!' And they were like, "No in Canada, that's a B… a Canadian B. [Laughs.]"
Collins continues, "I would have used that excuse all day long to my parents. I would have been like, 'I'm an A student in Canada!'"
While Toronto is home to Shi, she's currently living in California and misses the Caribbean food here. "You don't have that a lot in California. I missed just eating beef patties. I would just eat that as a snack all the time when I came home from school, just go to the convenience store and grab one."
The Mother-Daughter Dynamic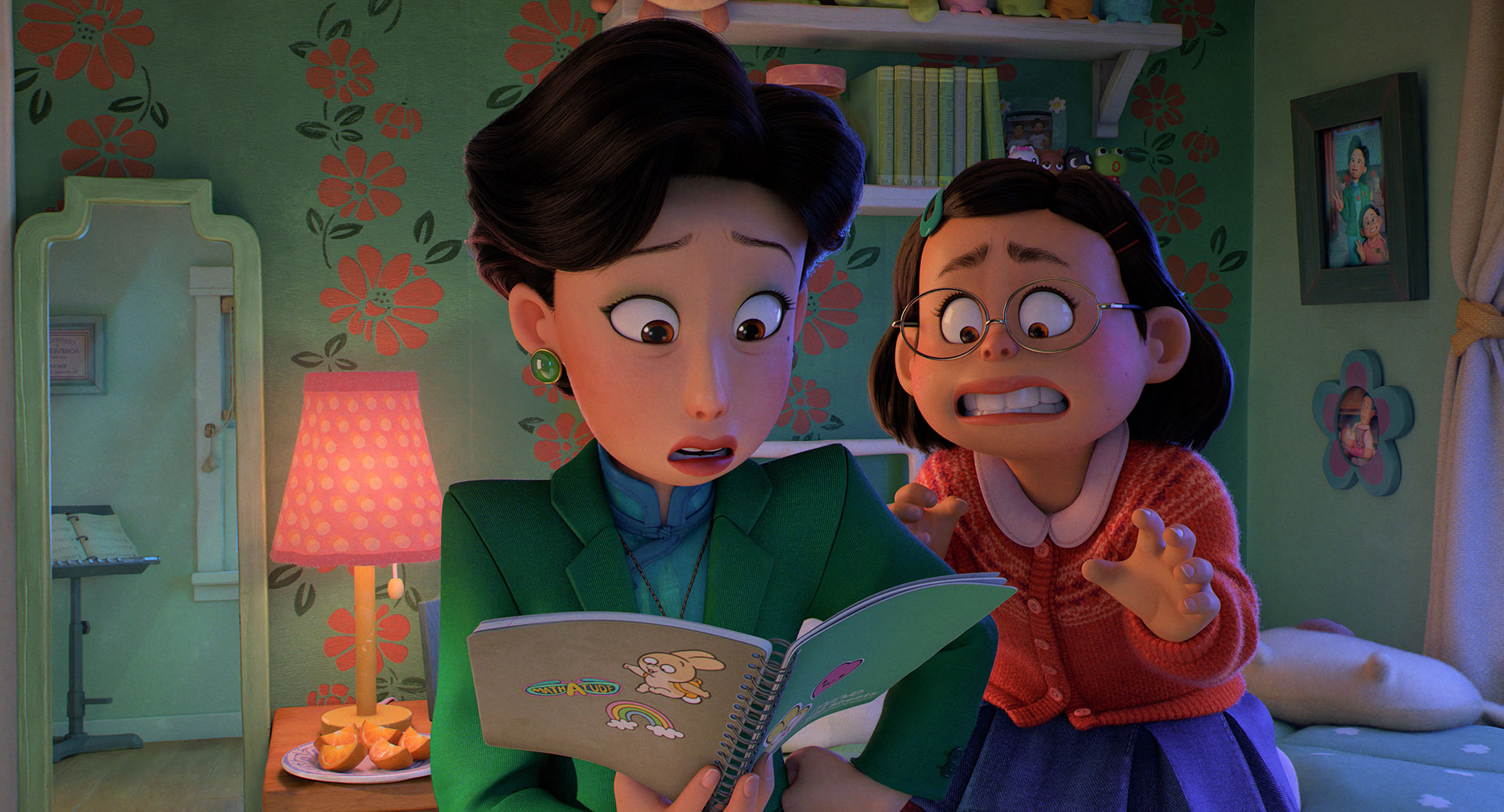 The film is rooted in the overbearing expectations of parents—something that many can relate to. Oh certainly did. "It's interesting to play the mother figure in this because I would say my personal experience was very much like Mei's, of having to break from the traditional expectations that I think that my parents definitely had on me. But, you know, here I am deep into my career, everything worked out fine."
The two-time Golden Globe-winning actress hopes the film will speak to and inspire both parents and kids alike. "I hope this film gives the two voices: one for the younger generation to say, 'You're going to disappoint your parents, it's OK. You're going to get messy, it's going to be difficult—even what the red panda can be, still go for it, you have to find your own voice.' Then for the parents' side, it's like, just to give that little bit of space. 'Can you see how our children need a little bit of space?'," she says as she turned to Chiang. "And it'll be OK. Even if the connection that you have, which is so deep as a child, needs to change."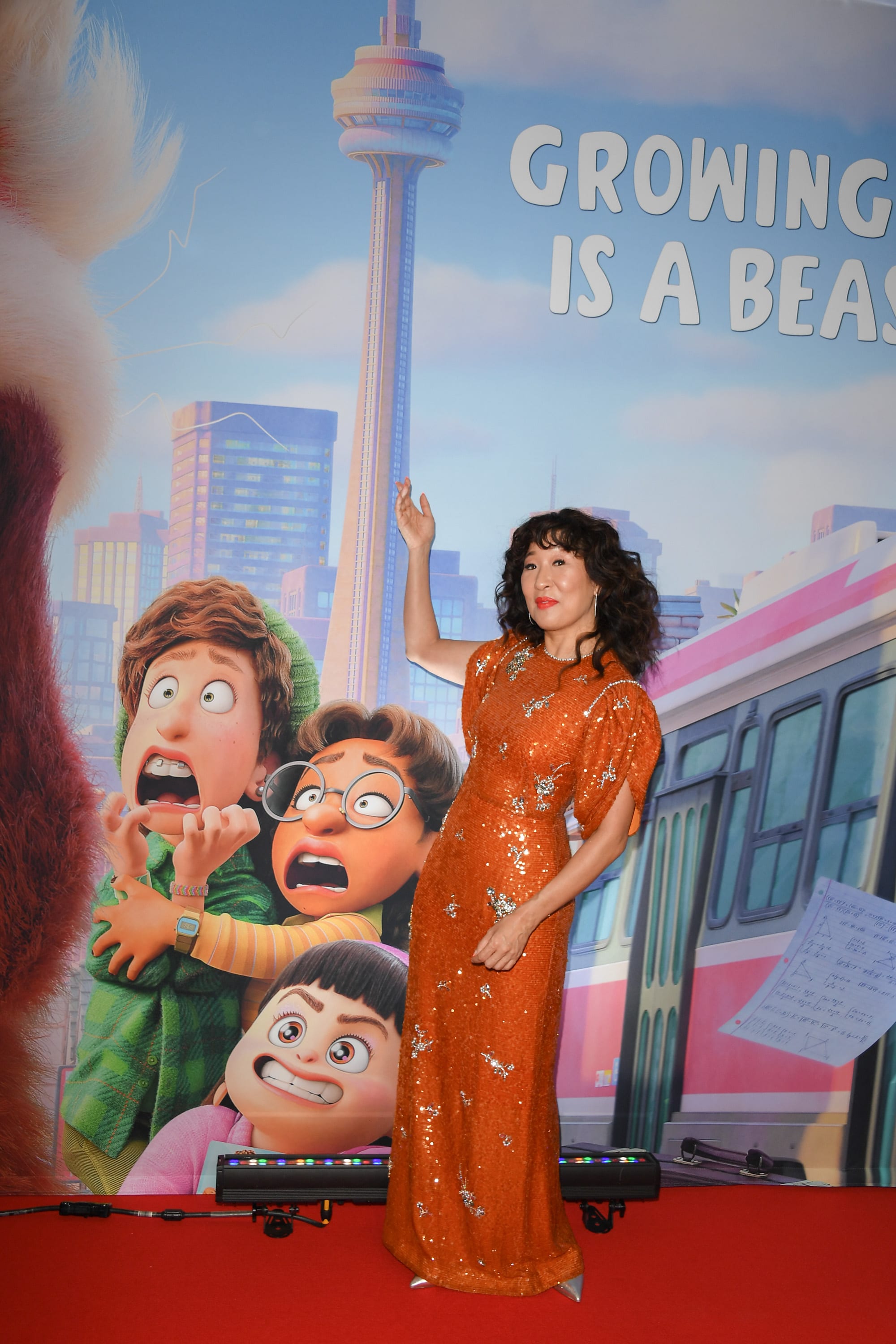 "It's interesting to play the mother figure in this because I would say my personal experience was very much like Mei's, of having to break from the traditional expectations that I think that my parents definitely had on me." – Sandra Oh
This film is California-born Chiang's first big role and Oh has been guiding her as her work mom. When Rosalie is asked how Oh fares as her professional parent, she and Oh laugh in unison. "I make sure she's eating, she has to rest," Oh says. Chiang then remarks that while they didn't get a chance to record together in the booth, Oh has "given me a lot of advice and has helped me and guided me though interviews and tough questions."
With Mei going on her own journey of self-discovery, Chiang believes she is on one too. "I think my journey of self-discovery is still continuing. I don't think I've reached that point yet. My relationship with my mom, that sort of arc that happens in the movie, it's still continuing for me. I'm 16. Now, I don't even think it'll end." Oh jumps in: "You're right, it won't end, by the way." Chiang continues, "My journey of self-discovery, I think it's also still going to continue. I don't know how long it's going to last because my interests are changing. I think my thoughts and feelings are constantly changing and pivoting."
Inner Pandas