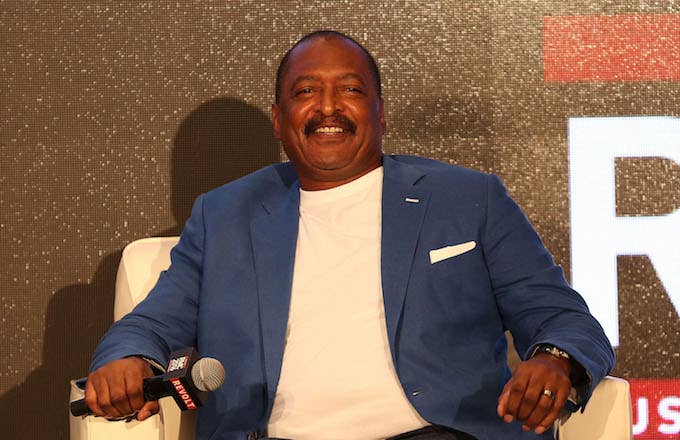 In 2014, Solange Knowles physically attacked Jay Z in an elevator, following an afterparty for the Met Gala at New York's Standard Hotel. The incident rippled through the music and entertainment industry, leading fans to speculate just what exactly caused that flurry of violence to happen. Was Solange mad at her brother-in-law for cheating on his wife? Was this merely a case of one too many drinks — or something far more nefarious? Fortunately for us fans (who are always eager to know every little thing about the private lives of our idols), Jay Z threw us a bone with last year's Rap Radar conversation with Elliott Wilson and Brian "B.Dot" Miller.
Although Jay never explained the incident entirely, he profusely remarked on the rarity of such an event. "We had one disagreement ever. Before and after we've been cool," he said. "She's like my sister. I will protect her. That's my sister, not my sister-in-law, my sister." The struggles that Beyonce and Jay Z have faced in recent years are well-known, notably since the pair released individual albums exploring these hurdles with Lemonade and 4:44, respectively. The couple has expressed their thoughts on the matter both personally and artistically. What hasn't been public knowledge, however, is how Bey's dad reacted when he saw the infamous footage — until now.
According to HotNewHipHop, Matthew Knowles — father of both Solange and Beyoncé — was recently asked about the incident on The Wendy Williams show. "I have to tell you, I laughed so hard," he said. "If you know Solange…that's Solange. You just never know what you're going to get, a firecracker — don't know where she got that from." He also said that Beyoncé is usually the more reserved, calmer of the two, while Solange is a little more reactive.
Thankfully, the storm has subsided — with Shawn Carter and Beyoncé Carter still sharing the same surname, and living under the same roof. If the 'On The Run II' tour is any indication, this marriage is stronger than ever, with the 'infamous elevator footage' becoming more and more a remnant of the past, and a blip in this relationship's history. And frankly, picturing Solange's dad belly-laughing at the footage that has plagued fans of Jay, Solange, and Beyoncé for all these years is the best possible bookend to this story.