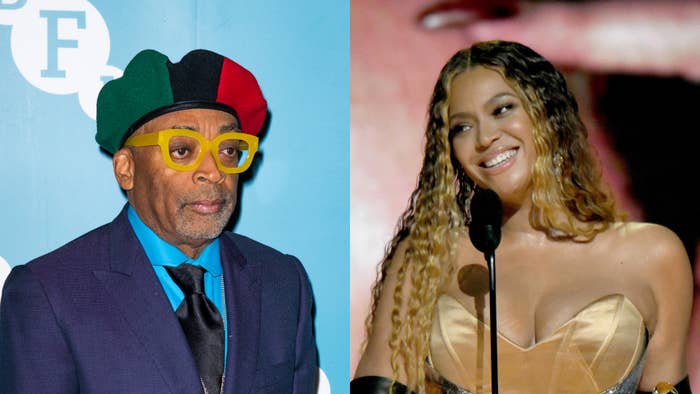 Spike Lee has spoken out against the Grammys and criticized them for once again not awarding Beyoncé Album of the Year despite her history-making wins at the 65th annual awards this year.
In an interview with The Guardian, the legendary director took a moment to shout out Queen Bey but acknowledged that she's been nominated for the Grammy's top prize multiple times and never taken home the trophy.
"I'm not the male president of the Bey Hive, but I love and support Beyoncé," Lee said. "Her album is amazing. I know she's won multiple Grammys, but four times nominated for album of the year and she's lost every time? No disrespect to those artists like Adele or Harry Styles who won. It's not their fault, but that's some straight-up bullshit."
After winning four Grammys at the 2023 awards, Beyoncé made history as the most awarded artist in the award show's 65-year history. However, she's never taken home album of the year despite having been nominated numerous times. Her seminal sixth album Lemonade lost out to Adele's 25, and her 2010 project I Am...Sasha Fierce was beaten out by Taylor Swift's Fearless. At this year's awards, Harry Styles took home Album Of The Year for Harry's House.
"There's a history of great Black artists who come up for these awards and don't win," Lee added. "We all know their work is great because art speaks for itself. But then it always comes down to this tricky territory of validation. Do Black artists say: 'Fuck it' – or seek white validation and chase awards? I just want to give a shoutout to my sister Beyoncé. We know what the deal is. It's straight-up shenanigans, skulduggery, subterfuge. Or as the British say: it's some poppycock!"
Beyoncé had tied Georg Solti's record 31 wins after winning Best R&B Song for her Renaissance track "CUFF IT," but she was soon declared victorious in the Best Dance/Electronic Album category, which brought her career wins total to 32.
"I'm trying not to be too emotional and I'm trying to just receive this night," she said when taking the stage to accept the latter award, adding at the end, "I'd like to thank the queer community for your love and for inventing this genre."