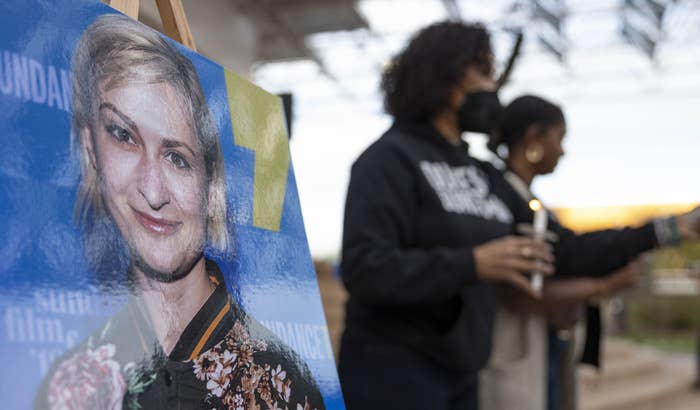 The medic who rushed to the aid of Rust cinematographer Hayln Hutchins after she was shot on set is suing the film's crew and production teams, Variety reports.
Cherlyn Schaefer was the first to arrive at the church building on Santa Fe's Bonanza Creek Ranch after Alec Baldwin accidentally shot Hutchins and Rust director Joel Souza. She tended to Hutchins while awaiting for the helicopter to arrive, putting pressure on her wound and giving her oxygen.
Schafer has now filed suit against the film's production company and 7 crew members, citing negligence, and alleging that she's suffered "tremendous shock, trauma and severe emotional distress" as a result of Hutchins' death that she said remains so impactful she is unable to work.
Baldwin is not mentioned in the lawsuit, but it alleges negligence by other crew members who handled firearms that day. The suit names ammunition supplier Seth Kenny, prop master Sarah Zachry, first assistant director Dave Halls, and armorer Hannah Reed Gutierrez, the latter of which filed her own lawsuit in January against the prop company responsible for the ammunition. Schaefer is now the fourth crew member to take legal action following the fatal shooting of Hutchins.
In one of the emotional distress lawsuits filed by script supervisor Mamie Mitchell, the production team rebuked that Schafer's death classifies as a workplace accident, and thus should be handled via New Mexico's worker compensation system.
In a December interview with ABC News, Baldwin, who was holding the firearm that ultimately killed Schafer, said he didn't feel personal guilt for what happened.
"Someone is ​responsible for what happened, and I can't say who that is, but I know it's not me," he said, adding later that he has been forever traumatized. 
"I have dreams about this constantly now," he said. "I go through my day, and I make it through the day. Then I collapse at the end of the day. Emotionally, I collapse."