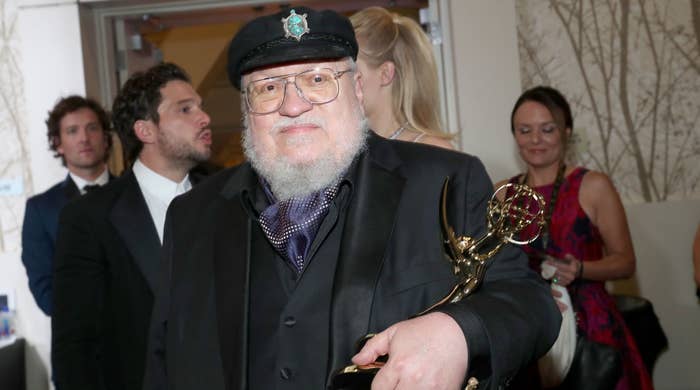 Game of Thronescreator George R.R. Martin confirmed in a blog post on Thursday that the highly-anticipated prequel series House of the Dragon has finally finished filming.
"Exciting news out of London — I am informed that shooting has WRAPPED for the first season," the author wrote in his post. "Yes, all ten episodes. I have seen rough cuts of a few of them, and I'm loving them."
He added, "Of course, a lot more work needs to be done. Special effects, color timing, score, all the post-production work. But the writing, the directing, the acting all look terrific. I hope you will like them as much as I do."
While filming has wrapped for the GoT spinoff, the author was unable to confirm a release date for the series, which is based off his book Fire & Blood.
"So when will you see it, you ask?" he added. "When will the dragons dance? I wish I could tell you. Lots of work remains to be done, as I said, and covid makes planning difficult. This spring? Unlikely. Maybe summer? Could be. Fall? Who knows? You'll know when we do."
The news from the fantasy author–whose book A Song of Fire and Ice originally kickstarted the blockbuster HBO fantasy series–comes after HBO and HBO Max chief content officer Casey Bloys confirmed on Tuesday production had wrapped on the new show. While that's ultimately good news, Bloys said fans shouldn't hold their breath for a release date.
"One of the reasons why we were trying to be careful with declaring a date is when you're producing with COVID—and every show has dealt with this—crew members, cast members get it," Bloys told The Wrap. "You can shut down unexpectedly."
He added that the team has been "cautious about declaring a date while producing a show—a huge show—during the pandemic," and said the hesitancy wasn't the company "trying to be coy or anything like that," but rather "just trying to be realistic."
House of the Dragon was first teased in April 2021 and serves as a Game of Thrones prequel set 200 years before the original show. Ryan J. Condal and original Thrones director Miguel Sapochnik will head the series as co-showrunners. Starring Paddy Considine, Matt Smith, and Olivia Cook, House of the Dragon is one of numerous spinoffs scheduled for the GoT world.
Watch the teaser for House of the Dragon below.