Jenna Ortega is the star of one of Netflix's biggest TV shows of the year, Wednesday, premiering Nov. 23.
In the role, Ortega masterfully balances Wednesday Addams' well-known menacing personality with a hint of innocence we haven't seen from the eldest daughter of the famous Addams family. The iconic character—which is perhaps the most overdone last-minute Halloween costume of all time—is not an easy role to tackle, especially since she is now at the center of the story, unlike in previous Addams family movies and shows. Christina Ricci, who also appears on the new Netflix show as a teacher, played Wednesday in 1991's The Addams Family and 1993's Addams Family Values. Her portrayal cemented the character as a pop culture staple, so making the role her own without alienating diehard fans was Ortega's biggest challenge. 
"You want to do something different. You don't want to be ripping off anybody else's performance," Ortega tells Complex in a virtual interview. "We've never spent so much time with Wednesday on screen before, there has to be more dimension in order to push that story forward." In the trailer, we get a glimpse of what this version of Wednesday is capable of when anyone messes with her loved ones. She might come off as dark, cold, aloof, and heartless at first, but when she sees a group of boys bothering her little brother she unleashes piranhas on them while they're in a pool. But that's only a fraction of what she's willing to do to protect those around her. Wednesday also shows a new, more emotional, and tender side in the Netflix series that fans haven't seen before.
Once she gets sent away to Nevermore Academy for her bad behavior, she befriends a sweet outcast named Eugene Ottinger (Moosa Mostafa), her adorable roommate Enid Sinclair (Emma Myers), and forms a not-so-platonic friendship with a boy named Tyler Galpin (Hunter Doohan). Together, they try to solve a mystery that plagued her parents 25 years ago. It might take some getting used to seeing Wednesday in her softer moments or showing interest in boys but it's sort of refreshing. Even more so when Ortega doesn't allow for the character to veer too far away from what viewers expect from Wednesday. "I was very protective and I never wanted to give too much or too little," she adds.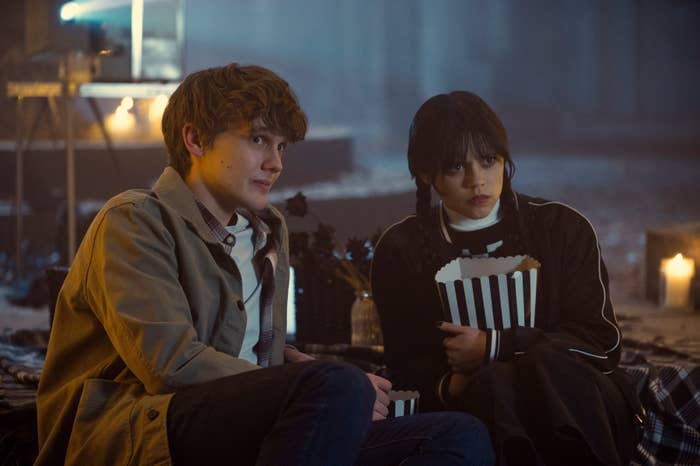 The supernatural mystery is directed by Tim Burton, making it his first-ever TV project. Burton wasn't the only one with a long list of horror films on his résumé, though. Ortega has starred in two of this year's most exciting horror films including A24's X and Scream, which already has a sequel arriving in March 2023. She plays these characters in sinister situations particularly well and says she likes having blood on her face and screaming all day on set. 
"Something that I appreciate about horror is that it's kind of keeping theaters alive. I feel like people really go out to the theaters nowadays for superhero films or horror films," she says. "You're just giving people a good time. It's adrenaline, it's a roller coaster. I feel like horror is a large, just this conglomerate of genres in terms of, you have your horror and your action and then there's comedy and then there's drama and then there's romance. I think that horror films are kind of everything at once, and that's a really wonderful experience as an actor." 

The show's younger cast is made up of mostly upcoming actors but the adults include names like Game of Thrones' Gwendoline Christie, Catherine Zeta-Jones, Luis Guzman, and Fred Armisen. It's a mystery why Netflix decided to drop this show nearly a month after Halloween, but now fans will get the opportunity to binge-watch the series during Thanksgiving break—and it's definitely worth a watch. Check out our interview with Ortega below, where she discusses adding new layers to Wednesday, working with Tim Burton and Christina Ricci, and more.