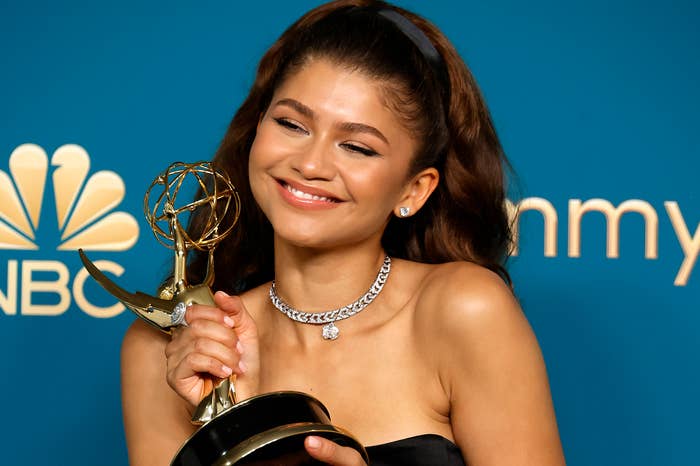 The Emmys are usually one of the least popular of all the award shows, but this year, the Television Academy put in some effort to make it a tad more exciting. 
For starters, Black women in Hollywood had a fantastic night. Zendaya, Quinta Brunson, Lizzo and Sheryl Lee Ralph all walked away with much-deserved trophies. To follow that, Squid Game made history with various wins for Netflix, breaking language barriers and giving other non-English TV shows an opportunity to do the same going forward. Kenan Thompson was also a highlight as the host, especially with the Kel Mitchell reunion. Sure, the award show wasn't perfect. There were some misses like Ted Lasso beating out Abbott Elementary in the Best Comedy category, Better Call Saul going home empty-handed and Jimmy Kimmel almost sullying Brunson's big night.
TV seems to be doing strides in terms of diversity and advancement, and we can only hope that continues, especially when it comes to awards. TV is also at such a high point and there are so many award-worthy shows currently on the air and on streaming that give fans and the Television Academy voters plenty to choose from, and makes the competition even tougher for the stars and creators. The Emmys are a celebration of the high-quality entertainment we get to watch on the small screen, so here are some of the best and most standout moments from last night's 74th Primetime Emmy Awards. 
Zendaya Makes History, Again
Quinta Brunson Got Her Well-Deserved Emmy
Sheryl Lee Ralph did it. The actress, whose career spans decades, took home the trophy for Outstanding Supporting Actress in a Comedy Series for her portrayal of kindergarten teacher Barbara Howard on Abbott Elementary. As if the video of the moment she learned she was nominated wasn't motivating enough, Ralph got on stage and gave one of the most mesmerizing and moving acceptance speeches I've heard in a really long time. (I keep a running list of my favorite award show acceptance speeches and this is high up there right next to Kanye West's at the 2005 Grammys.) 
She kicked it off by singing the powerful Dianne Reeves song "Endangered Species," and followed it up with a heartfelt speech. "To anyone who has ever, ever had a dream, and thought your dream wasn't, wouldn't, couldn't come true, I am here to tell you this is what believing looks like," Ralph said. "This is what striving looks like and don't you ever, ever give up on you." She added: "Because if you've got a Quinta Brunson in your corner, if you've got a husband like mine in your corner, if you've got children in your corner like mine, and if you've got friends like everyone who voted for me and cheered for me in your corner, thank you, thank you."
Ralph is the second Black woman in history to win in the Supporting Actress category, about 35 years after Jackée Harry won for her role in 227. There are several Black actresses that could have and should have won that award since 1987, so here's to hoping another three decades don't have to pass by before we see a third take home the trophy.
'Squid Game' Continues to Make History
HBO Had a Big Comeback
'Better Call Saul' Shut Out
Look, it probably wasn't done with any sort of malice towards Quinta Brunson but Jimmy Kimmel's continuation of his bit with presenter Will Arnett—one wherein he laid on the ground and pretend to be too drunk or playing fake dead to stand up—while she won her first Emmy wasn't a particularly good look. Arnett said that Kimmel was passed out after he lost out to John Oliver in the Emmy for Outstanding Variety Talk Series category yet again.
In the backstage press room, Brunson went on to say the bit didn't bother her too much and sang his praises accordingly saying he gave her her first late-night interview, but also stated she may feel differently in the days to come. She'll guest on his show later this week where I'm sure the topic will be discussed. While there's something to be said for committing to the bit, doing so while a first-time Emmy winner gives a speech isn't the best time to continue it.