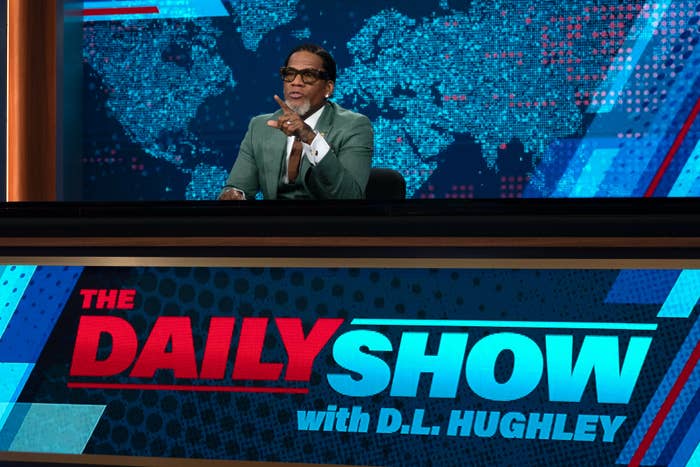 D.L. Hughley has stepped into late-night television. 
Comedy Central's The Daily Show is ushering in their next chapter after Trevor Noah's departure by bringing in different guest hosts to take his place. Hughley made his debut on Monday, Jan. 30, and he is part of a roster of other hilarious comedy greats hosting the late-night show in the coming weeks, including Leslie Jones, Wanda Sykes, Chelsea Handler, and Sarah Silverman. 
Hughley was the third host on the list, and the seasoned comedian seemed calm and not at all nervous ahead of his week of hosting. His confidence comes from hosting The DL Hughley Show on the radio every day as well as his prior experience working with the network. He says he knows that the show is a well-oiled machine run by writers and producers he trusts. "I love the motion, I love how big the staff is. I love how nimble they are. A lot of the staff has been around for a couple of incarnations, a couple of hosts," Hughley tells Complex. "I met a couple of staff members that have been around all 28 years. They definitely know how to hit the strike zone. It's very hard to trust people at least creatively, at least for me, but they've made it an easy process."
Complex attended the taping of Monday's show in which Hughley tackled the police killing of 29-year-old Tyre Nichols. Attorney Ben Crump joined virtually as a guest and discussed why the quick arrest of the officers in the Nichols case should be the blueprint moving forward with these police brutality cases. Hughley handled the topic with as much frankness as he covers news on social media and on his radio show. He also was able to share his perspective as a Black American man that the show hasn't seen with its previous hosts. Hughley seemed right at home in the host's chair and didn't shy away from sharing his opinion in a way that was humorous, passionate, thoughtful, and also informative.  
"We don't like to be uncomfortable, and comedy has a way of informing and satiating a need for knowledge, but without making people feel attacked. When you do it right, I think it's the only time people listen," he says. "Comedy has always been the way to have conversations that people wouldn't necessarily like to have in an open forum." 
Fans have grown to expect this from The Daily Show, which has been around for 27 years, is the longest-running show on Comedy Central and has won 24 Primetime Emmy Awards for the network. Due to its success, continuing the program seems like an easy choice after Noah announced he was leaving in September. He filmed his last episode in December after seven years of hosting the satirical news show. Noah's tenure began in September 2015, replacing Jon Stewart who hosted from 1999 to 2015. Stewart shifted the show's coverage to be more politically focused news satire, a stark difference from his predecessor Craig Kilborn, who started hosting in 1996 and focused more on pop culture. 
"Anytime somebody has done what they can, it's better to leave through the front door than the back. He left on a high. He had felt like he contributed all he could and he was leaving on his own terms, and anytime somebody does something like that you can't help but be happy for them," Hughley says about Noah moving on. "You got to know when to walk away. You don't want to be Tom Brady. You don't want to stay too long. Trevor left after his Super Bowl, which is the way to go out—on top."
Hughley says he is not auditioning to be the permanent host but does hope to bring a fresh take to the show this week. We caught up with the comedian ahead of his stint as The Daily Show's host, and he tells us all about his preparation for the gig, what he thinks about social media and not being silenced by critics.