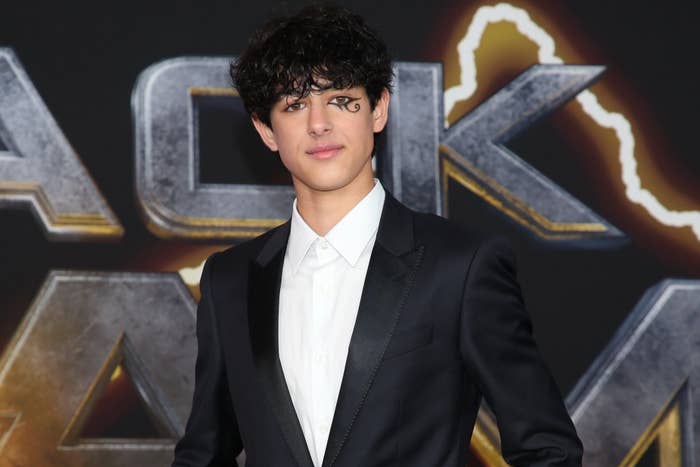 Meet Bodhi Sabongui.
After roles in The Baby-Sitters Club, A Million Little Things, and DC's Legends of Tomorrow, the 14-year-old actor is currently starring in the No. 1 movie in the country, Black Adam, alongside Dwayne "The Rock" Johnson.
In the film, he plays Amon Tomaz who lives in Kahndaq and is the son of a university professor named Adrianna Tomaz (Sarah Shahi). In the DC comics, Amon was enslaved at a young age and Adrianna was his sister, and Black Adam grants him a portion of his power, and he becomes the hero Osiris. In the movie, Amon helps his mom in her mission to free Kahndaq, Black Adam's home country, which is located in the Middle East from a criminal organization named Intergang. Bodhi, whose father is Egyptian, recognizes the huge responsibility he had with this role to represent younger fans and his community.
"It's still rare to see an Arabic protagonist, especially in superhero movies," Sabongui tells Complex over the phone. "A big part of Black Adam and why I'm so excited about it is that even though I'm not a superhero, I still get this opportunity to paint Middle Eastern and North African people in this positive light, which isn't something that I saw so much growing up."
The concept of representation was also a big driver behind Johnson's decision to take on this role. The news that he would be playing a superhero for the first time surfaced 15 years ago, a year before Sabongui was born. The young actor now plays an integral role in the film since Amon is the one who convinces Black Adam to use his powers for good. After Sabongui's initial excitement to be working with Johnson, he realized there was also a lot to learn from him as an actor and as a person.
"His mentality when making a movie is to always put the audience first, which I picked up on. He's not thinking about the studio or the critics or anything. He's just like, 'So when the audience sees this, are they going to like that? Are they going to laugh at that?'" Sabongui says. "He's truly making movies for the people and it's never coming from a place of ego or selfishness from him, and he's doing what's going to make people happy. And I think that is just honestly a great mentality to have when you're the biggest movie star in the world."
This new wave of Hollywood stars seems to have one thing in common—they're not trying to be boxed in. After starring in a film that brought in $140 million globally at the box office opening weekend, Sabongui still has his sights set on excelling as an athlete in school and attending college. "I still do love acting and I do want to keep going down this path for sure," he says. "But there are also things I want to do outside of it that interest me as well."
Complex caught up with the actor after the movie's release to talk all about his experience filming, learning how to skateboard on set and what it was like working with Dwayne Johnson. Black Adam is now in theaters.