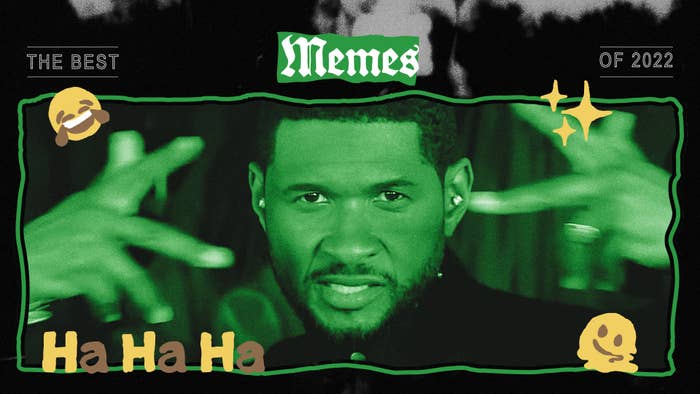 Where would we be without memes? A wave of new memes hits our timelines to keep us laughing and connecting no matter what is going on in the world year after year. They have become the go-to language for social media users and have become an integral part of pop culture. While we usually have what feels like a meme calendar with a trend that takes over each month of the year, 2022 felt a little slower and dryer than usual at the start, and then the humor picked up. 
Will Smith vs. Chris Rock at the Oscars, Kim Kardashian, Elmo's beef with Rocco, and Julia Fox have given social media users all the ammunition they need to turn those situations into the funniest, most sharable, and entertaining memes they could think of. Euphoria broke records, becoming the most tweeted show in Twitter's history with 30 million reactions in Season 2—and obviously, a lot of those tweets were memes. Usher had a bit of a resurgence this year, becoming one of the most hilarious and memorable memes of the last 12 months.
Check out our list of the best, most popular, and funniest memes 2022 has had to offer. If these don't do it for you, don't worry, there's always next year.
Best uses: Saying "Uncut Jahmz" on a loop, Julia Fox was the new Fergie
It feels like a century ago since those initial photos of Juliye took over our Instagram timeless. Julia Fox and Kanye West started dating at the start of 2022, and the actress took full advantage of the spotlight being on her during that time. She did interviews, podcast appearances, and more just to talk about her relationship with the rap superstar. During an episode of the Call Her Daddy podcast, Fox was asked about being Ye's muse, and in an effort to remind people that she was a well-established muse before him, she created one of this year's most viral moments. 
"I was Josh Safdie's muse when he wrote Uncut Gems. Do you know what I mean? Things like that," she said. The phrase in itself is harmless, but it was the way she pronounced and elongated the word "gems" that caused a stir. OK, I'll admit it, this one is more annoying than it is funny, but there's no denying that for about two weeks straight, TikTok was filled with videos of people recreating this soundbite and adding their own interpretations of it—and we couldn't get it out of our heads. Fox defended herself saying the reason she spoke that way is that English is her second language and because she was "stoned" during the interview. But fans didn't really care why, they just wanted the laugh. —Karla Rodriguez
Best uses: Elmo in Marriage Story, Rocco is Elmo's Joker
I've discussed, at considerable length, why I consider Elmo to be the worst thing to happen to Sesame Street. He's a brat, an irritant, and a shitty role model, and he typically has a rotating cast of enablers who reinforce his bad behavior.
But even I, an avowed Elmo hater, had to take the furry red monster's side during his feud with Zoe's pet rock, Rocco. Zoe carried Rocco everywhere, and insisted that everyone treat her pet rock as an individual. You had to say hello to Rocco. You had to give Rocco a cookie. You had to acknowledge that Rocco was dancing. (He wasn't. He's a freaking rock.) And Elmo got sick of being screwed with, and lit into Zoe for her foolishness:
"How? How is Rocco going to eat that cookie, Zoe? Tell Elmo. Rocco doesn't even have a mouth. Rocco's just a rock! Rocco's not alive!"
The confrontation hit home with a lot of people, who were angry at Zoe for gaslighting Elmo. The Times even gave it a big write-up, hypothesizing that it resonated with homebound people, forced to be inside while COVID-deniers loudly proclaimed an alternate reality.  Elmo eventually took to Twitter to clear the air between him and Zoe, insisting that the two were still friends. Although he did squeeze in a parting shot: "Elmo doesn't want to talk about Rocco." —Kevin Wong
Best uses: His now infamous dance, he was added into the "Thriller" video
Not sure how it happened but not one but two R&B icons have landed on this list this year. Ginuwine has brought me plenty of laughs in the second half of the year, and to be honest, I'm not even sure the singer is intending to be funny—he just is. The singer went viral a few times when clips from his performances hit social media. There was a move he did with his leg and head while signing "Same Ol' G" that people found so amusing, it kicked off its own challenge on TikTok.
While he was known for his sex appeal and his dancing when he was younger, his recent moves on stage had people saying that he dances like somebody's uncle. It's hard not to laugh at these, but the crooner took the jokes and memes in stride and even started incorporating them into his performances. As they say, if you can't beat them, join them. —Karla Rodriguez
Best uses: Applicable in any scenario, to describe your mood
It's always interesting to see a meme appear out of nowhere and gain almost instant status. Such is the case with the Ghost from Call of Duty: Modern Warfare II, where the constantly masked protagonist serves as a bit of memorable iconography for the game. Ghost transcended his iconic status in two ways: his dialogue with fellow operator Soap was quickly recycled into TikTok clips, but we prefer the "Ghost Gaze" meme. Pulled from a passing glance in a mid-game cutscene, Ghost's visible disappointment is a great way to express sadness—whether it's passing on a promised trip to get fast food or when your boy inexpiably knows the way to your girlfriend's house without asking. — William Goodman
Best uses: For your triumphant/shameful moments, to describe life before 2020
The sharp social commentary of The Boys makes it ripe for meme fodder, but the concluding moments of the series' third season offered a perfect distillation of modern behavior. As Homelander (Antony Starr) commits a heinous, brutal act, he's greeted by cheers instead of jeers. It's a perfect distillation of Trump's "I could stand in the middle of Fifth Avenue and shoot somebody, and I wouldn't lose any voters" quote and has quickly become a shorthand for engaging in risky behavior that may be more acceptable than initially thought. Considering the Internet is where all kinds of absurdities are celebrated, it's no surprise the meme gained a Homelander-like acceptance.  — William Goodman
Best uses: Zoom meetings, faking interest via texts, Chris Pine being fed up
We'll eventually get the story behind what really happened behind the scenes of Don't Worry Darling, but until then, the meme fodder we got will have to sustain us. If going through a video, Zapruder style, to determine whether or not Harry Styles spit on Chris Pine wasn't enough, Pine's total disassociation during the middle of the Venice Film Festival press conference is and remains a masterpiece in nonverbal communication. The meme is one of the few on this list I never grew tired of seeing, especially in how it was recontextualized through its many uses. We may not think very much about Don't Worry Darling by the time that tell-all-tale is released, but I know I'll never forget Pine's reaction. — William Goodman
Best uses: Weight loss encouragement, this Danny DeVito edit
Speaking of slightly overused memes, there was a 48-hour period where you couldn't escape the ubiquity of Adam Levine's unsexy, sexy direct messages. Understandably so: they're a fantastic canvas for all kinds of use, and Levine deserved to be roasted accordingly for allegedly cheating on his supermodel wife Behati Prinsloo and then wanting to name their daughter after the woman he cheated with—but this meme had a particularly epic Icarus moment. It burned so, so bright while it was here, however. — William Goodman
Best uses: TikTok took over, People showed how "hard" they work

People are fed up with rich people telling them how to live. And rightfully so, especially in this economy. Kim Kardashian learned that the hard way after a clip from an interview with Variety promoting her new show The Kardashians went viral after she told women to "get your fucking ass up and work." She also said it "seems like nobody wants to work these days," and fans were quick to remind the makeup mogul that there are people that are dying (to quote her big sister Kourtney) and that we are tired. The clip was shared repeatedly online, with fans making jokes about Kim coming from money, about how disconnected she is from the real world, and how tone-deaf she sounded. This one was a little more frustrating than others but the way people made sure to set her straight was refreshing, hilarious, and quite necessary. —Karla Rodriguez
Best uses: Flexing your air fryer cooking skills, when you're a frozen pizza connoisseur
The Bear was not only one of the most beloved and critically-acclaimed shows to debut this year but it also became an inspiration for some hilarious cooking memes. While the FX show premiered in June, a meme format that used photos of Carmy, the show's main character who is a professional chef, started floating around in September. People used an image of him in his apron to flex their unimpressive cooking skills, like heating up last night's chicken nuggets in the air fryer or making bagel bites. Some are better than others but I will admit that there are a few that were highly relatable and equally funny, like someone feeling accomplished for cooking dinner two nights in a row instead of ordering in. That one made me feel embarrassed yet incredibly seen. —Karla Rodriguez.
3.
'Euphoria' took over Twitter
Best uses: Maddy's "Bitch, you better be joking," Lexi's play
Euphoria's Season 2 delivered some of the most intense episodes of television to ever exist. So much so that people live-tweeted every episode week after week earlier this year, sharing millions of viral reactions, commentary, memes, and jokes. From Maddy and Cassie's beef to Lexi's play to Rue's terrible decision-making skills to Fez and Ashtray's scene in the finale that left us gasping for air, there was no shortage of inspiration this season for fans who were eager to create content based on the show—and they did. From Twitter memes to hilarious TikTok trends, Euphoria was the gift that kept on giving. There was no surprise when the show became the second most-watched HBO series, only after Game of Thrones, and it became the most-tweeted show of the last decade. People were not only tuned in to see what would happen, but they were also heavily invested in making an online event out of every single Season 2 episode. —Karla Rodriguez
2.
Will Smith slapped Chris Rock at the Oscars
Best uses: The slap reminds us of our finances, the slap as a sign from above
It pains me to add this to this list. Will Smith slapping Chris Rock on stage at the 2022 Oscars is easily one of the most memorable and unfortunate pop culture moments in recent memory. Rock made a joke about Jada Pinkett Smith, which Smith didn't appreciate, and he got on stage and slapped the comedian in the face. The whole situation ended up being a lot more serious and damaging for Smith in the end—he was banned from any Academy Award events for a decade—but in that moment? People made sure to get their jokes off.
The slap was for sure heard around the world and the memes flooded our Instagram and Twitter feeds for weeks. The repercussions were severe, and even though Smith won his first Oscar later that night, the second his hand landed on Rock's cheek he and all of us knew none of it would matter. The slap overshadowed his big moment and put his 30+ year career at risk. Celebrities were also quick to give their opinions and hot takes on the issue, and of course, the internet did not hesitate to turn it into one of the most meme'd and talked-about pop culture moments of the year. —Karla Rodriguez
Best uses: For those who've been around kids, cat owners, it never gets old

In honor of Black Music Month in June, Usher delivered one of the most memorable performances on NPR's Tiny Desk Concert series in recent years. While the R&B legend reaffirmed that he is still the best in the game, it wasn't his singing that landed him on this list. While certain generations already knew of his greatness, Usher further cemented himself into pop culture history by giving us one of the most meme-worthy moments of the year. A meme was born at the start of his rendition of "Confessions Part II," which always featured the singer saying, "Watch this."
During the taping, Usher fully leaned into entertainer mode and started bouncing to the music while doing a peace sign with both hands over his eyes as he says, "Watch this," eliciting an instant laugh from the people in the crowd and inspiring millions of memes. The clip made the rounds on social media for weeks, and even when you thought it was over, it just kept on going. The best part? While other memes and viral moments get stale quickly, this one proved to have the longevity and timelessness that very few others have. Now people of every generation, even those who weren't around for Confessions, will remember Usher as the "Watch this" guy. And breathing new life into your career is never a bad thing, even if it was unintended. —Karla Rodriguez