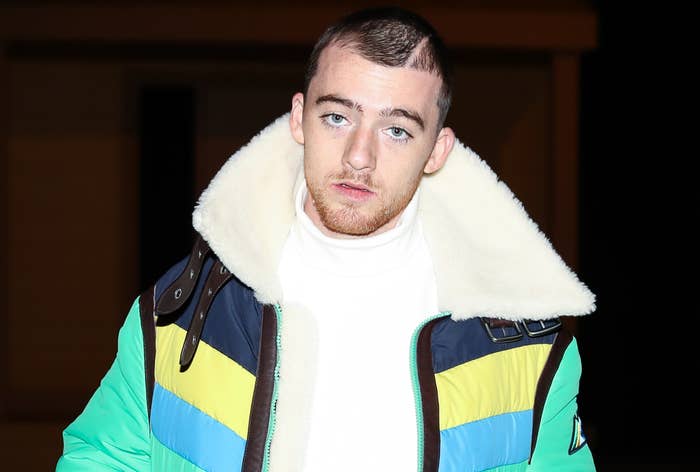 Angus Cloud has come a long way since a casting director discovered him while he was walking around in Brooklyn. In just a couple of years, the Oakland native has become the biggest breakout star of HBO's hit show Euphoria and now his life outside of acting consists of being a special guest at ​​New York Fashion Week's hottest shows. Coach debuted their Fall 2022 collection with a live runway show in New York City on Monday, Feb. 14 and the actor sat front row next to the likes of Megan Thee Stallion, Tommy Dorfman, Rickey Thompson, and Kelvin Harrison Jr.—and all eyes were on Cloud. "It's hella weird, people recognizing me. That's foreign to me," Cloud told Complex backstage before the show. He wore a multicolored sherpa-lined Coach jacket, with a white turtleneck underneath; it looked like something his Euphoria character Fezco would wear. 

Our conversation took place just hours after the sixth episode of Euphoria's massive second season, "A Thousand Little Trees of Blood," premiered. It was a big episode for Fez, who finally had a highly anticipated interaction with Lexi Howard (Maude Apatow). Fez and Lexi, who have affectionately been given the name "Fexi," are a much-needed reprieve from all the darkness on the show. The pair are some of the most endearing characters on the series, and even though they are starkly different from one another, seeing the inception of their friendship in the season's first episode filled fans with hope that it would evolve into something more. Lexi and Fez got together again in this recent episode, chatting about the school play she's putting together, which is inspired by her group of girlfriends and her sister, Cassie. They start watching the movie Stand By Me, and when it ends, they sing the titular track by Ben E. King, while laughing and crying together.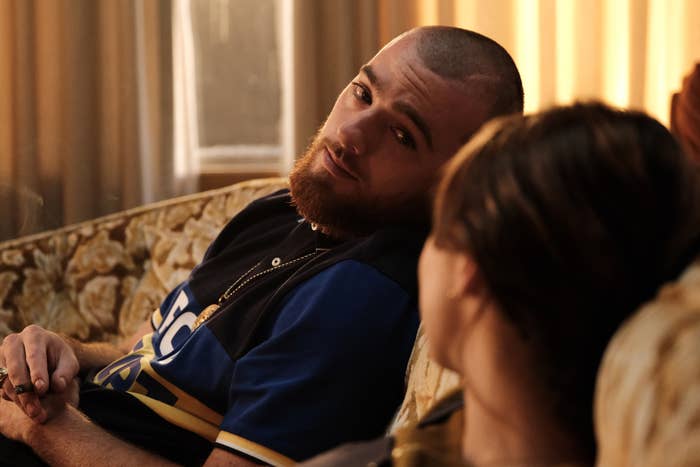 In any other teen show, this emotionally charged and sweet moment would have culminated in Fezco going in for a kiss, or maybe even more, but that would not have been true to these characters and the way their relationship is slowly developing. Instead, Fezco reaches over and innocently grabs Lexi's hand and she smiles back at him. When I ask him why he thinks Fez didn't make a move, Cloud says: "I think they're both just kind of innocent in dealing with their sexual fucking emotions, so they're both awkward, you know what I'm saying? I feel like Fez ain't even had, like, a girl; he's too busy working. And then Lexi, she is kind of a nerd, so they're just letting it happen." He added: "But he respects her. He ain't gonna do no weird shit. He's gonna let homegirl take the lead." 
Fans loved the moment, and it has already been shared repeatedly on social media just as much as their previous interactions. The connection between Cloud and Apatow goes beyond the show, and he shared selfies they took while they were out in NYC as the show was airing on Sunday night. "I actually didn't have time to watch it last night. I was actually hanging out with Maude when it was airing and stuff," he says about the episode. "I didn't get to watch it yet, but I'm sure it was great because filming it was so nice." The preview for next week's episode shows Fez getting ready to attend Lexi's play with roses in his hand, and he can be heard promising her that he'll be sitting front row at the show. When I ask him about it, he says: "I haven't seen it yet. The other thing though is we filmed it for nine months and we filmed it a while ago, so I be forgetting what even happens."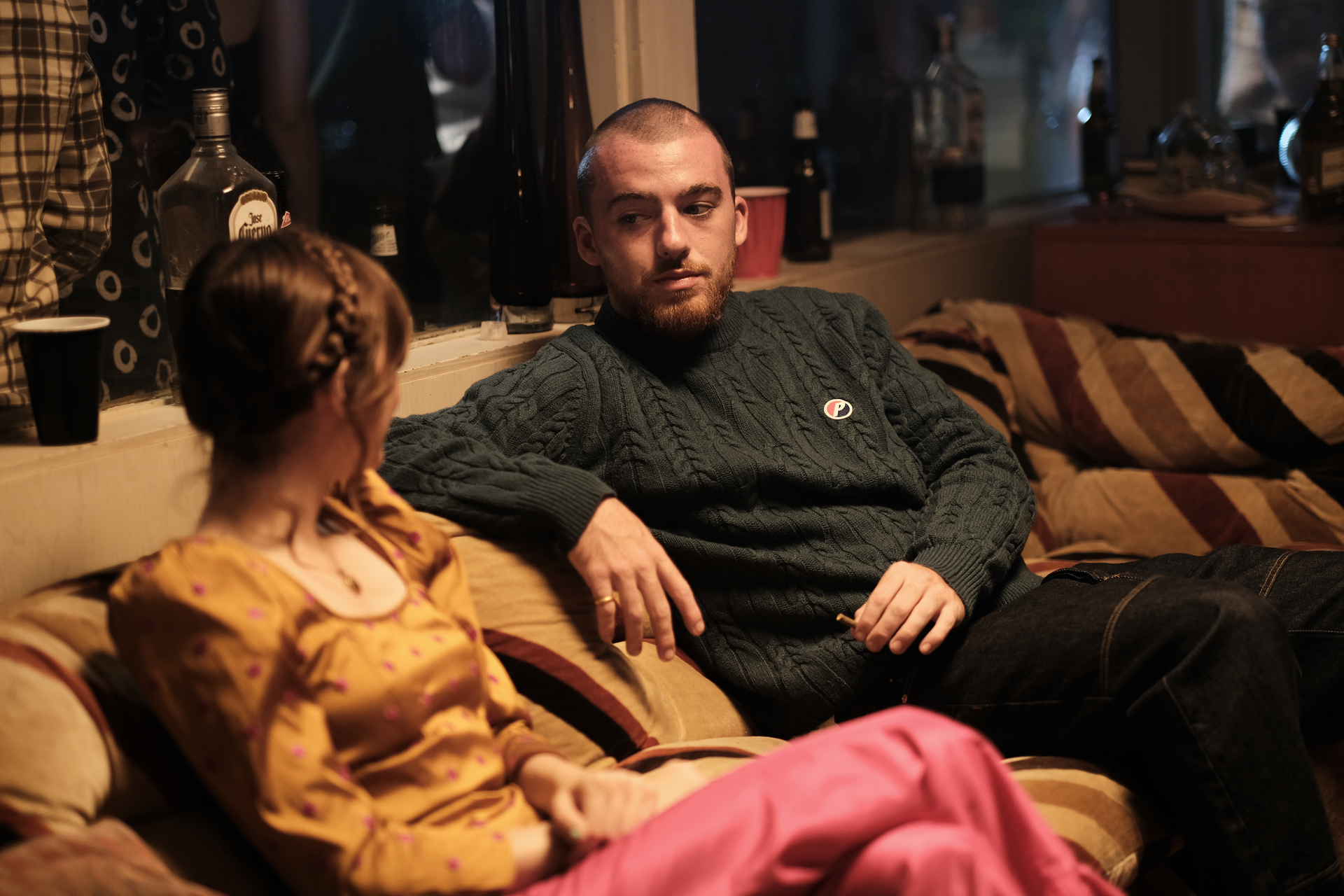 Week after week, Cloud live-tweets his reactions to the show to his 1.4 million Twitter followers. Last month, Cloud tweeted that his manager doesn't allow him to watch the whole season in advance (most likely so he doesn't share any spoilers). I ask if he live-tweets the show because he's sharing his genuine reactions to watching the episodes in full for the first time along with fans, but he denies even being on Twitter. "Sure, I mean, what? I don't use Twitter," he says. There are fans who have their notifications turned on so they're the first to respond to his tweets, or to see them before they're deleted. So who has been tweeting from his account?
"It's probably a fan page or something," he says. I tell him the account is verified and Cloud says, "I don't know what to tell you. I don't know how to use Tweeter." That's not a spelling error, that's just how he pronounced it. It's hard to tell whether he was being facetious or not. Cloud is known for being playful during interviews and recently celebrities like Robert Pattinson have come clean about fibbing during interviews, so that's up to Cloud's fans to decide. 
Fezco has been one of the most universally beloved TV characters we've seen in recent years. As much as fans love Fez for his big heart and for his gentleness with Lexi as well as with Rue (Zendaya), there is irony in that he was the one supplying her with the drugs. After her overdose, he tried to cut her off, and he does his best to protect her whenever she gets into a tight spot, and even beat up Nate both for snitching in Season 1 and for how he treated Jules. After watching Fez's backstory in the first episode of Season 2, fans got to understand that Fez isn't a drug dealer because he chose that life, it's just all that he knows. His grandmother (Kathrine Narducci) introduced him to the business when he was just a child, and now that he has to fend for himself because she's sick and he has little brother Ashtray (Javon Walton) to look after, he has to do what he needs to survive. He's too deep into it to back out now, and Cloud believes that sometimes the ends do justify the means.