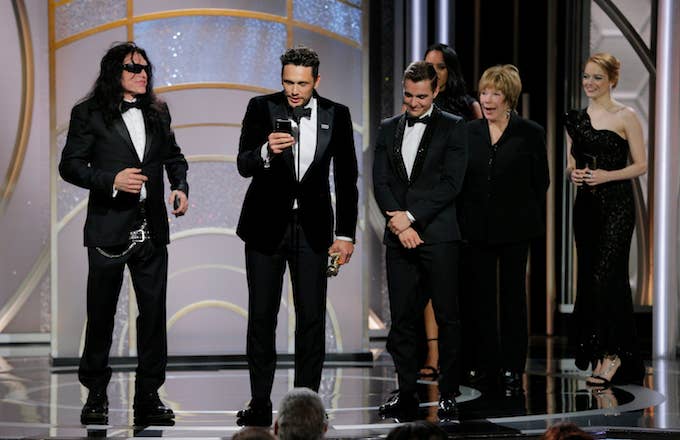 For years, The Room lived in relatively obscure infamy as one of the worst films ever made. Then, James Franco got his hands on it, et voilà, The Disaster Artist wins a Golden Globe. And now, 15 years after the epic failure of a movie hit theaters in 2003, director Sandy Schklair is out to get his. In his new book, Yes, I Directed The Room, Schklair attempts to dethrone Hollywood's resident weirdo and writer/lead of The Room, Tommy Wiseau, of his director credit. As Schklair asserts, "You know what, I don't care if it's a shitty movie. I directed crap and got it noticed all around the world." The titular throwdown has the makings of another Franco hit.
In the book, which will be released by Canadian publisher Finding Dimes Literature later this week, Schklair recounts a mostly hilarious sejour on the set of what's been dubbed "the Citizen Kane of bad movies," and Schklair wants credit for his share of the spectacular cinematic failure. "I directed this entire movie, except for the love scenes and the second unit stuff in San Francisco," he told The Hollywood Reporter. Schklair—played by Seth Rogen in The Disaster Artist—claims he joined The Room as a script supervisor, but he never saw a fully realized script; rather, Wiseau gave him a few new pages every time he came to set. He also says that he became the film's de facto director and first assistant director, since Wiseau "had no idea what the directing process was, no idea how you shoot." Yes, I Directed The Room includes what Schklair says is a copy of the original crew list, where he is credited as "AD/Script Supervisor/Whatever," and Wiseau "director."
Wiseau, naturally, has shirked Shicklair's claims for years, but even the 2013 book The Disaster Artist, upon which the Franco film was based, paints a picture somewhat in line with the would-be director's claim. "Sandy helped set up eyelines, blocked scenes, worked on the dialog, and established a basic through-line of minimum coherence," wrote author and Wiseau's close friend and The Room co-star, Greg Sestero. He was the "only reason we'd gotten anything remotely watchable on film," he added.  
Perhaps most intriguingly, Shicklair claims he designed the film to bomb. "Don't think any of this happened by accident," he says. "The idea was to keep the insanity, but push it as far over the top as I can and preserve the fact that everybody there knows I'm making a comedy ... except one person." The one thing Shicklair is adamant he had nothing to do with was The Room's sex scenes. "I will not direct pornography," he says. "This is non-negotiable."
Yes, I Directed The Room will be available on Amazon and Barnes & Noble online on Friday.