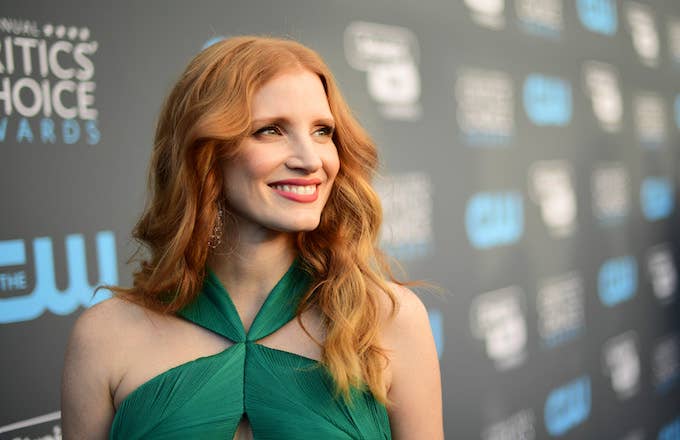 Jessica Chastain is quickly proving herself to be one of the most genuine actresses working in Hollywood right now. She says she's an ally, and then actively uses her privilege to make sure that Octavia Spencer has the salary she deserves. She says she's a feminist, and she proves it by helping out a random woman who criticized her on social media.
On International Women's Day, hairstylist Renato Campora shared a photo of Chastain wearing a shirt that read "We Should All Be Feminists" on Instagram. Chastain re-posted the image on her own Instagram, adding the caption: "FEMINISM: the theory of the political, economic and social equality of the sexes.
Then, in a totally unprecedented move that shocked everyone on Earth, one Instagram user responded to the celebrity's photo with criticism that actually had very little to do with the photo shared. Karin Hallsten Schulzwrote that "Yes, feminist that believe in God and stand up for The Unborn. I would be for that kind of feminist," in the comments. Schulz was seemingly saying that she would prefer a "feminism" that wasn't also pro-choice. Feminism is, as Chastain said herself in her caption, a movement about equality, and abortion only matters in the sense that women deserve the right to make their own decisions about their bodies. A woman can still be a feminist and be against abortion on religious terms, or any other terms for that matter; the point is that she should have the choice to make her own decisions.
Somehow, Chastain saw Schulz's comment. She then probably made her way to Schulz's Instagram page, spent some time familiarizing herself with Schulz's life, and replied to her with a heartfelt message:
"Yes, you can decide what is right for you. I am pro-choice and I believe that everyone has the right to make their own decision. I read about your journey to become a mother and it broke my heart. I hope that your dream will come true in 2018! Much love to you."
Schulz's Instagram bio leads to a GoFundMe page that is raising money for help getting pregnant so she can start a family with her husband. Schulz is trying to raise $5,000 for fertility treatment—which isn't covered for by her insurance—since her "hormone and egg quality aren't the best, due to [her] age."
A few moments later, Schulz's GoFundMe reported a huge donation of $2,000 from some lady named "Jessica Chastain." Now, we don't have 100%, airtight proof that this was Chastain herself since she didn't mention it in her reply to Schulz, but if anyone else with that name and that kind of money also found Schulz's GoFundMe yesterday, then, well, that's a bigger story than this one, so do let me know if you have evidence.
The point is that Chastain quietly showed Schulz the true power of feminism: women sticking up for each other so they can achieve their own goals in a world free of discrimination and barriers. And on International Women's Day, too.
Schulz later returned to Chastain's Instagram to thank her.
"Dear Jessica. Thank you for your words, for your encouragement and loving wishes. I too am a feminist!! It is ok if we don't see eye to eye on everything. We do agree on more than we disagree!! You are my sister, and together wonderful change and more awesome things will happen in this beautiful world we live in. Love Always Karin."
It's always nice to write about something that involves a female celebrity, social media, a random person, and feminism that actually has a happy ending. Let's hold on to this energy for as long as we can, shall we?