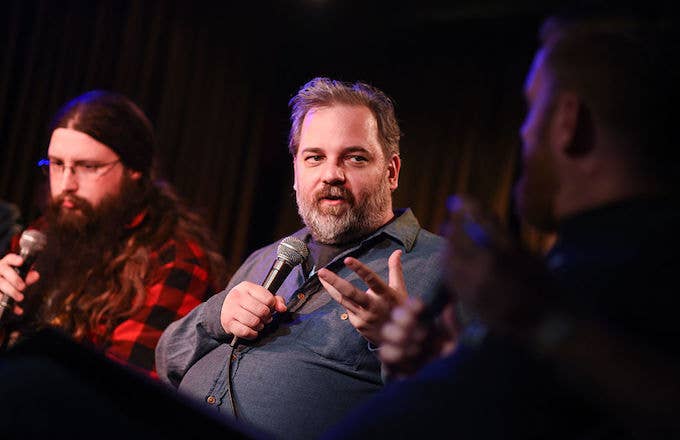 Dan Harmon, creator of the NBC show Community and co-creator of the Adult Swim animated comedy Rick and Morty, has been publicly called out by Megan Ganz, a former writer on Community.
Harmon took to Twitter on Monday to name 2017 the "Year of the Asshole" and explicitly included himself as one of the reasons for doing so. As a goal for the year, he went on to hope that 2018 will be the "Year of the Not as Much of an Asshole."
This was truly the Year of the Asshole. Myself included. We don't have to make 2018 the Year of the Mensch but I hope it can be the Year of the Not as Much of an Asshole.

#RealisticGoals
But Ganz was not about to let Harmon off the hook so easily. She replied to his tweet and urged him to be more specific, suggesting she had receipts for why he deserved his "asshole" title.
Soon, the conversation evolved into a public discussion about power dynamics in the workplace and how, no matter how repentant or apologetic someone may be, workplace abuse of any kind can leave lasting wounds.
i'm filled with regret and a lot of foggy memories about abusing my position, treating you like garbage. I would feel a lot of relief if you told me there was a way to fix it. I'll let you call the shots. Til then, at least know I know I was an awful boss and a selfish baby.
You want relief? So do I. I want to watch the first episode of television I wrote again without remembering what came after. Figure out how to give me that relief and I'll return the favor.
Ganz, who has also written for Modern Family and It's Always Sunny in Philadelphia, wrote six episodes of Community, the show that starred Alison Brie and Donald Glover, among others, during its seven-year run.
Harmon apologized for his "selfish, childish shit" and said he has "felt sick about it." While neither Harmon nor Ganz explicitly mentioned what happened between them, it's clear some form of harassment or abuse of power took place. 
I'm disgusted and sorry that I stained our show and your talent with my selfish, childish shit. I get that I can't erase it, don't want to, but have felt sick about it. I have kept a wall between me and coworkers and I have preached doing so as gospel because of how I treated you
I haven't listened to your podcast, but I don't think walls are the answer. Unless you put them up with male coworkers, too. Otherwise you're falling into the Mike Pence School of Gender Relations that says men can't be trusted with women's phone numbers.
But if I can offer this: It's good to recognize power dynamics, but it's also good to recognize you're no different from those you employ. You're not a king on a hilltop, nor a beast in a labyrinth. Isolation isn't always best. Connection breeds empathy. Empathy allows growth.
Good point. I don't mean I started handcuffing myself to radiators like a werewolf. I mean I stopped letting the lines between colleague and relationship be so undrawn that anyone in the vicinity of those lines or anyone that loves a show is beholden to a manchild's feelings.
Although it doesn't seem the two came to any concrete conclusion, the exchange was a relatively civil dialogue between a man who clearly abused his power and a woman with whom he worked. And on Twitter, at that. That's pretty remarkable, if only because it illustrates how far we still have to go when it comes to resolving power dynamics in the workplace, especially between men and women.