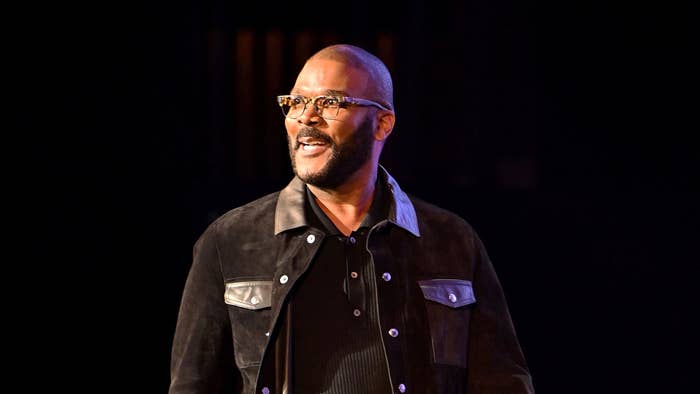 Tyler Perry has locked down his next big feature.
According to Variety, the multi-hyphenate has signed on to write and direct Netflix's Six Triple Eight, a World War II drama about an all-Black, all-women battalion that served overseas. The screenplay is based on a Kevin M. Hymel article published in WWII History Magazine by Sovereign Media. The film will tell the inspiring story of the 6888th Postal Directory Battalion, a troop of nearly 900 Black women who were tasked with fixing and sorting through a three-year backlog of undelivered mail.
"A herculean task, that most thought to be impossible, the women not only succeeded but did it in half the time they were given," Netflix's synopsis reads. "Facing discrimination, unfamiliar land, and a war-torn country, they persevered and sorted over 17 million pieces of mail, reconnecting American soldiers with their families and loved ones back home. The motto that kept them going each day was one they created themselves: 'No Mail, Low Morale.' The women of the 6888 weren't just delivering mail, they were delivering hope."
Perry's involvement in the film comes nine months after President Joe Biden signed a bill recognizing the accomplishments of the 6888th Battalion. Each member was granted the Congressional Gold Medal, the highest Congressional honor for distinguished achievements and contributions.
According to the Associated Press, only half a dozen or so battalion members are still living.
Rep. Gwen Moore (D-WI 4th District), who sponsored the bill, said, "The Six Triple Eight was a trailblazing group of heroes who were the only all-Black, Women Army Corps Battalion to serve overseas during World War II. … These women sorted millions of pieces of mail, closing massive mail backlogs, and ensuring service members received letters from their loved ones. A Congressional Gold Medal is only fitting for these veterans who received little recognition for their service after returning home."
Perry will produce Six Triple Eight alongside Nicole Avant for Her Excellency Productions; Keri Selig for Intuition Productions; Carlota Espinosa; as well as Angi Bones and Tony Strickland for Tyler Perry Studios. Mandalay Pictures' Peter Guber will serve as executive producer.
Six Triple Eight marks the fourth Netflix film directed by Perry, following 2020's A Fall From Grace, and 2022's A Madea Homecoming and A Jazzman's Blues. The studio has yet to announce any information about casting.