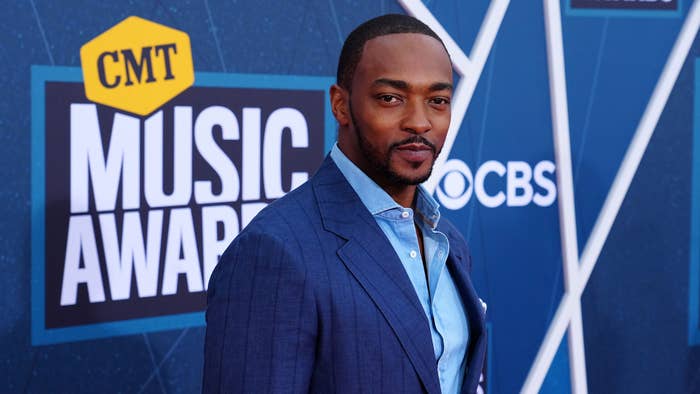 Anthony Mackie is the first Marvel Cinematic Universe actor to comment on Jonathan Majors' arrest earlier this year.
In a new interview with Inverse, Mackie was asked about Majors' future in the MCU, as he's still attached to portray the next big bad of the franchise, Kang the Conqueror. "We're a country that was built on 'everyone is innocent until proven guilty,'" he said. "That's one of the staples of this country. Nothing has been proven about this dude. Nothing. So everyone is innocent until proven guilty. That's all I can say. It's crazy where we are as a society. But as a country, everyone is innocent until proven guilty."
On March 25, Majors was arrested in Manhattan on several counts of assault in the third degree, attempted assault in the third degree, aggravated assault in the second degree, and harassment in the second degree. He was accused of getting into a physical altercation with his now ex-girlfriend Grace Jabbari, who was later granted a temporary order of protection against the Creed III actor.
If convicted of the charges, Majors could face a year behind bars. He has denied the accusations. In a counter-complaint filed this month, he accused her of "scratching and hitting him" during an argument that led to his arrest in March. He also said this wasn't the first time she injured him. Majors was taken into custody while Jabbari was taken to the hospital to be treated for injuries. He claimed his "drunk and hysterical" ex caused him harm during the argument.
"From the beginning, we have said Jonathan Majors is innocent and provably the victim here," said his attorney Priya Chaudhry. "Last week, for the first time, Mr. Majors met with the NYPD to present them with evidence of what really happened on that night. Within hours of viewing the evidence, and conducting their own thorough investigation, the NYPD found probable cause to arrest Grace Jabbari for assaulting Jonathan Majors."
Majors is expected to appear in court in connection with the arrest on August 3. As of right now, he is attached to star in Avengers: The Kang Dynasty and Avengers: Secret Wars, which are scheduled to hit theaters in May 2026 and 2027, respectively. He's also expected to appear in the second season of the Disney+ series Loki, which premieres in October this year. It's unclear what, if anything, Marvel plans to do about his future as Kang.
Mackie, meanwhile, is set to lead the next Captain America movie next year, reprising his role as Sam Wilson. In the more immediate future, he's the lead in the Peacock Original Twisted Metal, based on the video game franchise of the same name.