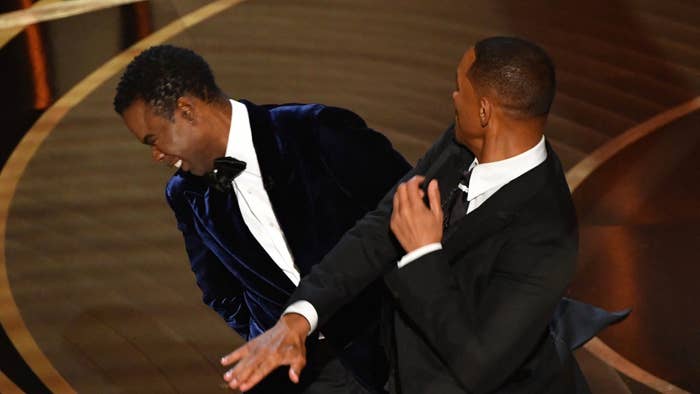 Chris Rock has made Netflix history.
The 58-year-old comedian returned to the stage Saturday for Chris Rock: Selective Outrage, the first live comedy special to air on Netflix. The streaming giant announced the event back in November; however, Rock teased the special during his Ego Death World Tour back in May, which launched just months after his infamous Oscars slap involving Will Smith.
"People expect me to talk about the bullshit, I'm not going to talk about it right now, I'll get to it eventually. On Netflix," he joked during a London stop. "Your tickets were expensive, but not that expensive."
Well, Rock kept his word.
Near the end of the special, Rock set up his comments on Smith by making a joke about Beyoncé and Jay-Z. "Beyoncé is so fine that if she worked at Burger King, she could still marry Jay-Z," he said. "Now, if Jay-Z worked at Burger King...no, no, no, woman got the power. And by the way, that is not a Jay-Z diss. I do not need another rapper mad at me. Y'all know what happened to me. Getting smacked by Suge Smith."
From there, Rock went in on people asking him if it hurt.
"It still hurts! I Got 'Summertime' ringing in my ears," he said. "But I'm not a victim, baby...I took that hit like Pacquiao."
"But Will Smith practices selective outrage," he continues. "Cause everybody knows what the fuck happened. Everybody that really knows knows I had nothing to do with that shit. I didn't have any entanglements."
Rock then went in on Jada and Will's Red Table Talk that broke down their cheating scandal. "She hurt him way more than he hurt me," he said.
Rock then claims Will's wife Jada told him he should quit hosting the Oscars because Will didn't get nominated for his 2015 film Concussion. "Nobody is picking on this bitch, she started this shit," he said. 
"I love Will Smith," he continues. "I have rooted for Will Smith my whole life, I root for this motherfucker. And now, I watch Emancipation just to see him get whooped."
Days before the special's premiere, the Wall Street Journal confirmed Rock had conducted a practice set in which he addressed the controversial slap.
"The thing people want to know … did it hurt?" he reportedly said during the test run. "Hell yeah, it hurt. He played Muhammad Ali! I played Pookie!" The joke referred to Smith and Rock's respective roles in Ali and New Jack City.
Selective Outrage aired nearly a year after Rock presented the Best Documentary Feature category at the 94th Academy Awards. While on stage, the comedian decided to poke fun at some of the audience members, including Smith's wife, Jada Pinkett Smith.
"Jada, I love you. G.I. Jane 2, can't wait to see it, all right?" Rock said, referencing Pinkett Smith's hairstyle.
Pinkett Smith, who began shaving her head after an alopecia diagnosis, was visibly agitated by the joke. Moments later, her husband walked onto the stage and slapped Rock across the face. He then returned to his seat, and shouted: "Keep my wife's name out your fucking mouth."
The incident resulted in Smith's 10-year Oscars ban.