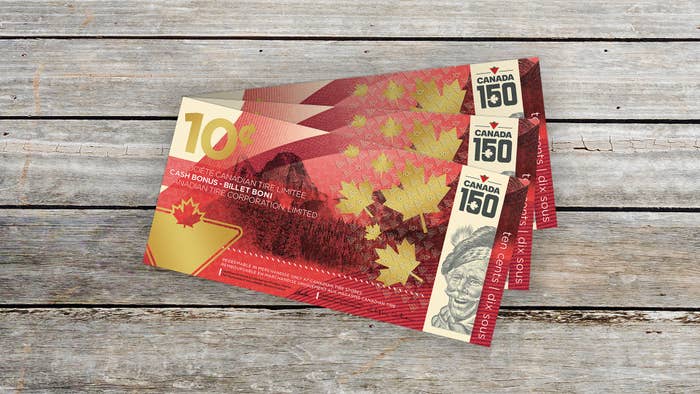 Love it or hate it, Canadian Tire money is something many of us who grew up in this country will remember from childhood trips to Canadian Tire with our parents, and over the years has become one of those weird, uniquely Canadian cultural quirks that nobody else will ever understand. There's even a site where people can pay above face value for new, crisp notes. Now, in the name of #Canada150, Canadian Tire is capitalizing on that nostalgia by printing a limited run of 10 cent bills. 
While the official press release might be reaching a bit when it claims that Canadian Tire money "is such an iconic part of Canadian culture that it's considered Canada's second currency," it does offer some other interesting facts about this polarizing paper: the first CT money was put into circulation way back in 1958, making this the country's oldest retail loyalty program with over $1 billion put into circulation since it's beginning. Since the money is accepted at stores at par in exchange for actual merchandise, that translates into $1 billion towards purchases for customers. Pretty impressive, right?
The new 10 cent bills are printed by the Canadian Bank Note Company, and will even include some of the same security features as real currency including gold foil elements and a watermark.  Two million of these notes are said to have been printed, and will be in circulation at Canadian Tire stores while supplies last starting Friday June 30. And once they're gone, they're gone.