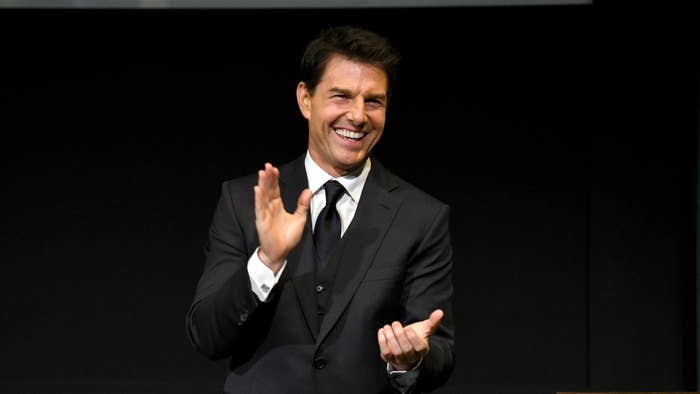 UPDATED 9/23, 9:35 a.m. ET:  Tom Cruise and Edge of Tomorrow director Doug Liman will be heading into space next October to shoot scenes for their new project. As initially reported, Cruise and Liman have been working with Elon Musk at SpaceX, and NASA, and will film scenes aboard the International Space Station in October 2021.
Deadline reports that pair will be riding to the ISS on a SpaceX Crew Dragon rocket, and the launch date has been tentatively confirmed. The pilot has been confirmed to be SpaceX pilot Lopez Alegria, while space for a fourth passenger is still up for grabs. The date could still be a preliminary one as they start pre-production, and it could also be a chance for the two to figure out whether their plans for the film are feasible in space.
Either way, the upcoming launches can be seen below via the Space Shuttle Almanac. 
UPDATED 5/5/20, 7:16 p.m. ET: NASA administrator Jim Bridenstine has confirmed the agency's involvement in the action-adventure film.
See the original story below.
Deadline reports that Tom Cruise and Elon Musk's SpaceX are working together on a feature film with NASA that would involve the boundary-pushing actor shooting in outer space. The project is reportedly still in the early stages of development, but it would obviously be the first of its kind. 
With each installment in the Mission: Impossible franchise, Cruise has continued to push the envelope with his action set pieces. In the latest movie, 2018's Fallout, the 57-year-old decided that he wanted to be the one who actually flew the helicopter as it performed downward spirals in the film's climactic scene. Director Christopher McQuarrie recalls a conversation with Cruise where he wondered how he could cut down the time it took to qualify for a pilot's license.
"Tom asked why it takes three months, and that's working every day for eight hours day for three months," McQuarrie said during an IMAX screening of Fallout, per IndieWire. "He said, 'What if I do it 16 hours a day?' So they got him another crew. He trained with crew number 1 and when they were exhausted, he trained with crew number 2 and trained for 16 hours a day and qualified on this helicopter in 6 weeks." Cruise revealed that he jumped out of a plane 106 times for the scene where his character Ethan Hunt performs a HALO jump from nearly 25,000 feet above the ground. 
McQuarrie contends that Cruise's motivation for performing these stunts has nothing to do with him being a daredevil or crazy. Instead, he wants to provide viewers with a "subjective first person experience" unlike any other.  
"We're always thinking about the experience you're going to have, which is one of the reasons Tom does all the crazy things he does in these movies," McQuarrie said. "It's not that Tom is a daredevil, it's not that he's a crazy showoff. What he does by doing these crazy stunts is he gives us the opportunity of a subjective first person experience when we're watching it."
In case you're wondering, this rumored film isn't part of the Mission: Impossible series. Although that isn't the case, Deadline reports that the upcoming movie will be an action-adventure.