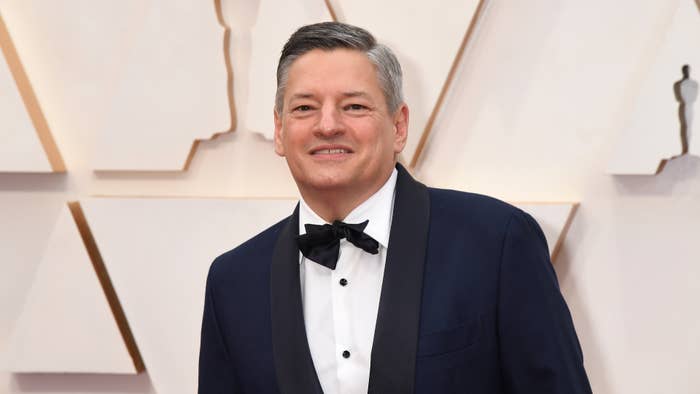 Variety has obtained an email sent from Netflix co-CEO Ted Sarandos to the entire staff on Monday. In the message, Sarandos reiterates his support for Dave Chappelle and his latest stand-up special, The Closer, which has been widely criticized as being transphobic.
"We know that a number of you have been left angry, disappointed and hurt by our decision to put Dave Chappelle's latest special on Netflix," Sarandos wrote. "With 'The Closer,' we understand that the concern is not about offensive-to-some content but titles which could increase real world harm (such as further marginalizing already marginalized groups, hate, violence etc.)
"Last year, we heard similar concerns about 365 Days and violence against women," he continued. "While some employees disagree, we have a strong belief that content on screen doesn't directly translate to real-world harm." 
Sarandos attempted to support his statement by mentioning that first-person shooters have grown increasingly violent, but violent crimes have seen a decline in many countries. "Adults can watch violence, assault and abuse – or enjoy shocking stand-up comedy – without it causing them to harm others," he wrote. 
Sarandos first came to Chappelle's defense earlier this month, arguing The Closer doesn't cross the line in being "designed to incite hate or violence," and claimed that while some people may find stand-up to be mean-spirited, "our members enjoy it." Some Netflix employees clearly don't share that same sentiment. 
Terra Field, a trans employee at Netflix, was suspended after she tweeting about her disapproval for her company, and attending a director-level meeting that she wasn't invited to. She was later reinstated. Two other employees were also subjected to the same treatment for attempting to enter the meeting.
Trans employees and allies are planning a walkout next week in protest of Sarandos' remarks in defense of Chappelle and his controversial special.
Earlier today, the Most account on Twitter, which represents the home of Netflix's LGBTQ+ storytelling, shared a candid tweet regarding what has transpired since The Closer was released.