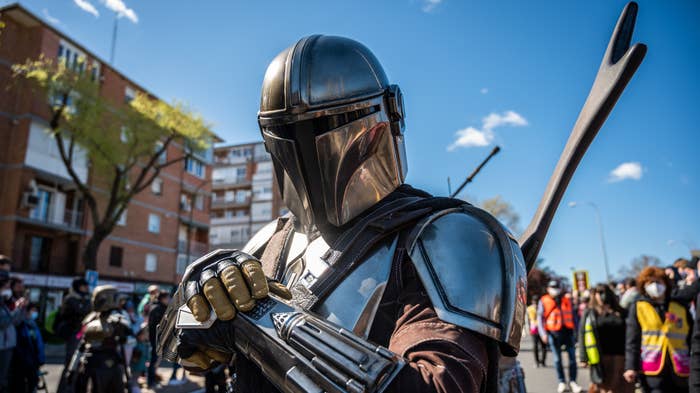 The Mandalorian creator Jon Favreau and executive producer Dave Filoni announced Thursday during a Star Wars celebration panel that Season 3 of the popular Disney+ series is scheduled to premiere in February 2023, per Deadline. 
A teaser trailer played for those in attendance, although it's not widely available online yet. Favreau and Filoni also brought onstage Katee Sackhoff, who appeared as Bo-Katan Kryze in two episodes in Season 2, and revealed she would be returning this upcoming season. Deadline reports more information about the return of Bo-Katan could come out during Saturday's panel titled "Mando+ : A Conversation with Jon Favreau & Dave Filoni," which is expected to "look ahead at what's to come." 
The duo shared that the Disney+ series centered around Ahsoka would also be premiering in 2023. Rosario Dawson, who made her live-action debut as the character in Season 2 of The Mandalorian, appeared in a pre-taped video in full costume and teased a possible appearance at the next Star Wars celebration event. 
Those in attendance at this year's Star Wars celebration were shown the first two episodes of the highly-anticipated Obi-Wan Kenobi series before it hits the streaming service on Friday. Jon Watts, who most notably directed the recent trilogy of Spider-Man films, delivered some details surrounding Star Wars: Skeleton Crew, a series about a group of 10-year-old kids who get lost in the Star Wars universe. 
While Skeleton Crew may appear to be geared for younger audiences, Watts said, "It stars four kids, but it's not a kids show." Jude Law has been tapped for a key role.