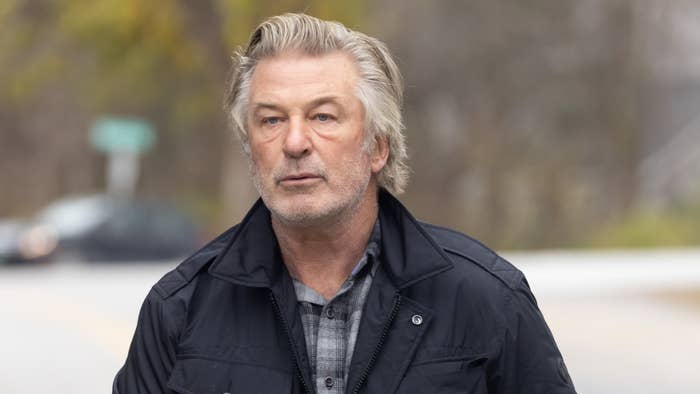 Matt Hutchins, husband of cinematographer Halyna Hutchins, who was fatally struck by a bullet from a prop gun on the New Mexico set of Rust last year, held his first TV interview on Today, and called out the film's star and producer Alec Baldwin for failing to take responsibility for her death, per Deadline. 
"The idea that the person holding the gun and causing it to discharge is not responsible is absurd to me," Hutchins said.
"Watching him I just felt so angry," he continued. "I was just so angry to see him talk about her death so publicly in such a detailed way and then to not accept any responsibility after having just described killing her." 
Baldwin spoke with ABC News in December and denied pulling the trigger of the prop gun, saying, "I would never point a gun at anyone and pull the trigger at them, never. … Someone put a live bullet in a gun, a bullet that wasn't even supposed to be on the property." Baldwin added, "Someone is ​responsible for what happened, and I can't say who that is, but I know it's not me."
Hutchins filed a wrongful death lawsuit against Baldwin, among others, citing an inability to follow basic gun safety protocols and industry-standard safety checks, which he touched upon in his Today interview. "But gun safety was not the only problem on that set. There were a number of industry standards that were not practiced and there's multiple responsible parties," he said. 
Rust was Hannah Gutierrez-Reed's first time as head armorer, who was tasked with handling the prop guns. Reports have since surfaced of Gutierrez-Reed being "careless" and "unsafe" while on past productions, including one such instance where she gave a gun to an 11-year-old actress without checking it properly. Assistant director Dave Halls has also come under fire for being the person that handed the prop gun that would kill Halyna to Baldwin. 
Halls allegedly yelled "cold gun," in reference to the weapon not having live ammo, on the Rust set, even though he may not have actually checked the firearm before handing it off to Baldwin. He was also reportedly fired in 2019 after a gun "unexpectedly discharged."
Hutchins continued to lay into Baldwin's ABC News interview, accusing the actor of trying to play the victim in the whole situation. "Almost sounds like he was the victim. And hearing him blame Halyna in the interview and shift responsibility to others and seeing him cry about it," he said. "I just feel — are we really supposed to feel bad about you, Mr. Baldwin?"
No arrests have been made yet as the Santa Fe County Sheriff's Office continues its ongoing investigation into the incident. Baldwin said he's been told that it's "highly unlikely" that he will be charged in connection to her death. 
Hutchins' full Today interview will air tomorrow.