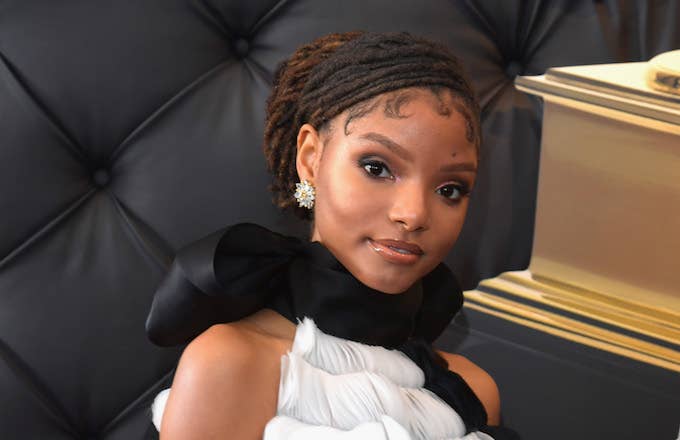 The casting of Halle Bailey of Chloe x Halle for the role of Ariel in the upcoming live-action adaptation of The Little Mermaid has been widely celebrated. Sure, there were close-minded people who couldn't help but complain on social media, but we shouldn't venture too far down that road. Instead, let's talk about those that have come to Bailey's defense.
Freeform, the network that's home to Grown-ish, recently chimed in with a thorough takedown directed at anyone who felt some type of way about Bailey not looking like the cartoon version from three decades ago.  
Jodi Benson, the voice of Ariel in the 1989 animated film The Little Mermaid, also touched on it all. She continued to lend her voice for the iconic character in two direct-to-video sequels, and a television series which originally ran for three seasons until 1994. 
Benson spoke at Florida Supercon on Saturday, explaining that there are a number of factors that should transcend anything having to do with Ariel's outward appearance. 
"The most important thing is to tell the story. And we have, as a family, we have raised our children, and for ourselves, that we don't see anything that's different on the outside," Benson said, perComic Book.
"I think that the spirit of a character is what really matters," she continued. "What you bring to the table in a character as far as their heart, and their spirit, is what really counts. And the outside package — cause let's face it, I'm really, really old — and so when I'm singing 'Part of Your World,' if you were to judge me on the way that I look on the outside, it might change the way that you interpret the song. But if you close your eyes, you can still hear the spirit of Ariel." 
"We need to be storytellers. And no matter what we look like on the outside, no matter our race, our nation, the color of our skin, our dialect, whether I'm tall or thin, whether I'm overweight or underweight, or my hair is whatever color, we really need to tell the story," Benson added. "And that's what we want to do, we want to make a connection to the audience. So I know for Disney that they have the heart of storytelling, that's really what they're trying to do. They want to communicate with all of us in the audience so that we can fall in love with the film again."