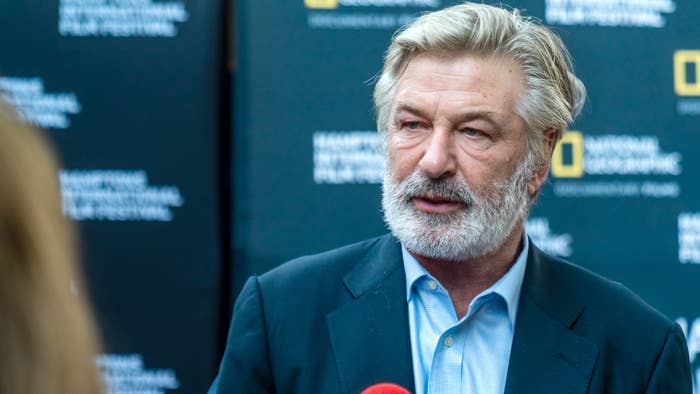 UPDATED 10/22, 8:52 p.m. ET: A new affidavit obtained by the New York Times and Associated Press, says Alec Baldwin was told the gun used on set was safe for the Western production of Rust. The Santa Fe County's Sheriff's Office filed the original document which further goes on to say that the gun was declared safe by Assistant Director Dave Halls. 
We now know that the gun was 1 of 3 which were placed atop a wooded base and held for the current scene they were shooting. Preliminary interviews with an officer coordinating the search warrant says Halls was unaware of the gun being loaded with 5 rounds. 
UPDATED 10/22, 4:45 p.m. ET: Deadline has turned in some reporting that paints a troubling picture of recent times on the New Mexico set of Rust, including a crew member flat-out alleging "poor gun safety." It also reveals Alec Baldwin and the production's armorer were interviewed and released after the gun went off. "No one has been held and there have been no arrests. Our investigation continues," a Santa Fe County Sheriff's Office spokesman said. 
Citing "multiple sources with direct knowledge of the situation," Deadline immediately gets into a "myriad of issues" facing the production directed by Joel Souza, who himself was hospitalized when Baldwin fired a prop gun that was loaded with live ammo.
An entirely separate incident with a misfiring prop gun that happened just "days before" saw "two misfires in a closed cabin." The article then notes that "just hours before the fatal Thursday incident...seven of the film's camera crew packed up their personal gear and walked off the job, citing a wide range of complaints."
A private Facebook page allegedly saw a camera crew member writing, "We cited everything from lack of payment for three weeks, taking our hotels away despite asking for them in our deals, lack of Covid safety, and on top of that, poor gun safety! Poor on-set safety period!" In the aftermath of the seven-person walkout, the person wrote, "they brought in four non-union guys to replace us and tried calling the cops on us."
Rust Movie Productions, LLC gave Deadline a comment including the note, "Though we were not made aware of any official complaints concerning weapon or prop safety on set, we will be conducting an internal review of our procedures while production is shut down."
UPDATED 10/22, 9:50 a.m. ET: Representatives for Rust director Joel Souza have confirmed with Deadline that he's now out of the hospital being injured on set in a prop gun accident.
Actress Frances Fisher, who is featured in Rust alongside Alec Baldwin and others, also said Souza has been discharged from the hospital.
Production on the film is set to halt for an undetermined amount of time after the fatal incident took the life of cinematographer Halyna Hutchins, Deadline confirmed. "The entire cast and crew has been absolutely devastated by today's tragedy, and we send our deepest condolences to Halyna's family and loved ones," said a Rust Movie Productions LLC spokesperson. "We have halted production on the film for an undetermined period of time and are fully cooperating with the Santa Fe Police Department's investigation."
IndieWire reports that Anthony Pawluc, a member of the entertainment union International Alliance of Theatrical Stage Employees Local 44, described the incident as "an accidental weapons discharge." Pawluc added, "A live single round was accidentally fired on set by the principal actor, hitting both the Director of Photography, Local 600 member Halnya Hutchins, and Director Joel Souza…Local 44 has confirmed that the Props, Set Decoration, Special Effects and Construction Departments were staffed by New Mexico crew members. There were no Local 44 members on the call sheet."
Crew and cast will be provided counseling services following the accident.
Baldwin released a statement shortly before noon: 
"There are no words to convey my shock and sadness regarding the tragic accident that took the life of Halyna Hutchins, a wife, mother, and deeply admired colleague of ours. I'm fully cooperating with the police investigation to address how this tragedy occurred and I am in touch with her husband, offering my support to him and his family. My heart is broken for her husband, their son, and all who knew and loved Halyna."
TMZ reports that the shooting is now being investigated by the District Attorney and New Mexico Health and Safety Bureau.
UPDATED 10/21, 10:28 p.m. ET: According to Variety, cinematographer Halyna Hutchins was the person who was killed in the accident on the set of Rust and Alec Baldwin was the person who fired the prop gun. Rust director Joel Souza was the other person who was injured in the incident.
Charges have not been filed.
"We received the devastating news this evening, that one of our members, Halyna Hutchins, the Director of Photography on a production called 'Rust' in New Mexico died from injuries sustained on the set," John Lindley, the president of International Cinematographers Guild, Local 600., and Rebecca Rhine, executive director, said in a statement. "The details are unclear at this moment, but we are working to learn more, and we support a full investigation into this tragic event. This is a terrible loss, and we mourn the passing of a member of our Guild's family."
See original story below.
Deadline has confirmed that a female crew member died Thursday following an apparent accident involving a prop gun on the set of the Western film Rust starring Alec Baldwin. Another was hospitalized and remains in emergency care. 
"There was an accident today on the New Mexico set of Rust involving the misfire of a prop gun with blanks," a production spokesperson said. "Two crew members have been taken to the hospital and are receiving care. Production has been halted for the time being. The safety of our cast and crew remains our top priority." 
TMZ reports the two injured crew members were struck with either shrapnel or a bullet when the prop gun was fired. According to ABC News, deputies responded to a 911 call around 2 p.m. "indicating an individual had been shot on set." The University of New Mexico Hospital would only confirm that a patient was admitted earlier today "in critical condition."
Production at Bonanza Creek Movie Ranch in Santa Fe, New Mexico has been halted for the time being. The Santa Fe County Sheriff's Office is investigating "how and what type of projectile was discharged." 
Baldwin shared a photo of himself on the set of Rust on Instagram earlier today. 
Baldwin is co-producing Rust, written and directed by Joel Souza.