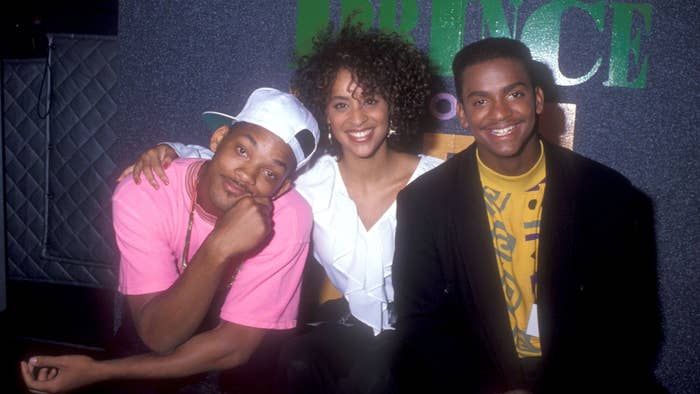 Will Smith's new memoir just keeps on giving.
While he dives deep into his relationships with his wife and his kids, Smith also explores his time on Fresh Prince of Bel-Air. In the memoir Will, which came out on Tuesday, Smith writes that he was happy that his Fresh Prince of Bel-Air co-star Karyn Parsons, who played Hillary Banks, said she wouldn't date him.
"Not only did Karyn beat out a slew of Hollywood big hitters to win her role, but she was smart enough to tell me 'hell no' when I tried to explain we were not really cousins so it would be fine if we dated," he wrote. "[I said], 'I swear it won't mess up our working relationship.' She knew better than that – good call, K.P."
Buzzfeed points out that in a 2019 red carpet interview, Parsons talked about Smith, who she called "bright" and "charismatic."
"He's got charisma like crazy," she said at the time. "He's just incredibly charismatic, so bright, very smart and quick-witted and funny. It's just him. People always say, 'What's it like?' It's exactly what you see. That guy, that's Will.
Smith has been on quite the promotional blitz for both his memoir, and his upcoming film King Richard, in which he plays the father of Venus and Serena Williams. 
He recently sat down with Oprah Winfrey, where he opened up about his relationship with Jada Pinkett Smith. 
"We realized that it was a fantasy illusion that we could make each other happy," he said about how their relationship changed after a big argument when Jada turned 40. "We agreed that she had to make herself happy and I had to make myself happy. Then we were going to present ourselves back to the relationship already happy — versus demanding that the other person fill our empty cup."

Will explained that they decided that she needed to "figure out if you can be happy and prove to me it's even possible," and that he resolved to "do me and you do you."
Will is available now wherever books are sold.