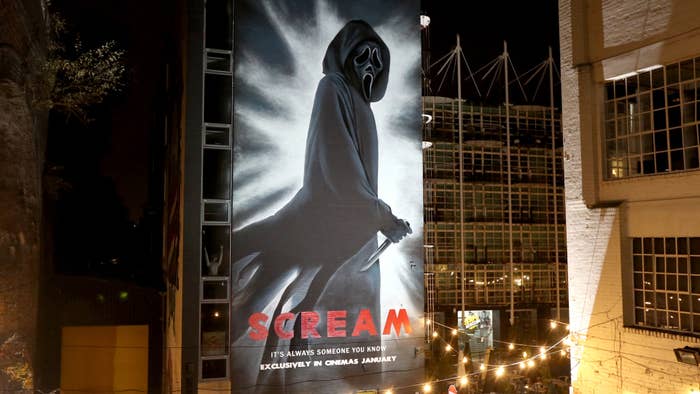 The recent reboot of the cult classic slasher film Scream received positive reviews from critics and fans alike, so much so that Paramount and Spyglass have agreed to produce a sequel.
A follow-up to the modern-day revival—which featured the return of numerous original cast members, including Courtney Cox, Neve Campbell, and David Arquette—would make for the sixth big-screen installment to the Scream universe overall. According to Deadline, Matt Bettinelli-Olpin and Tyler Gillett of the filmmaking collective Radio Silence will return to direct the sequel, with a script that will also bring back screenwriters Guy Busick (Castle Rock, the upcoming Final Destination 6) and James Vanderbilt (Zodiac, Murder Mystery), who's got prior experience in the reboot/revival department with The Amazing Spider-Man and Independence Day: Resurgence.
In a press release, Radion Silence emphasized how much of a privilege and honor it's been to continue the Scream legacy by creating its next chapter. "Working with such a wonderful and talented family of creators—and in the lineage Wes [Craven] and Kevin [Williamson] so expertly built—has been the thrill of a lifetime and we're so excited to bring the next chapter in the Scream saga to life," the collective said. 

Reps for Paramount and Spyglass stated, "We are tremendously grateful to the fans around the world who enthusiastically received our film. We can't wait for audiences to see what Radio Silence, writers Jamie & Guy and Project X have in store for our Woodsboro family." The sequel will also be produced by Project X Entertainment's Vanderbilt, Paul Neinstein, and William Sherak. 
The latest Scream hit theaters on Jan. 14 and has since grossed over $107 million at the global box office. Plot details for Scream 6 have not been revealed, but Deadline says principal photography will begin this summer.