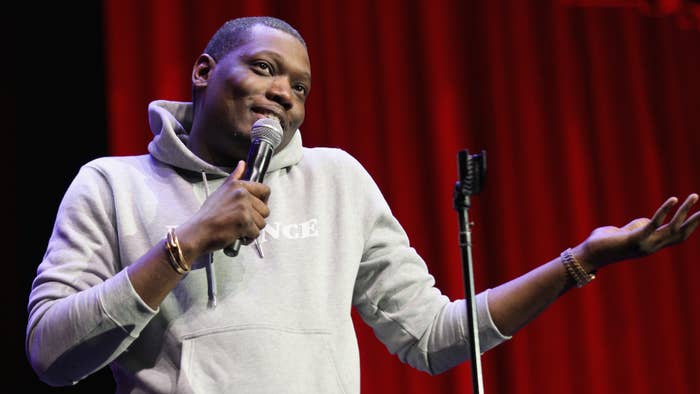 In the days since Will Smith smacked Chris Rock at the Academy Awards on Sunday, everyone has felt the need to give their two cents about it, including SNL comedian Michael Che.
Che took to his Instagram to share a carousel post where he said he's "disappointed" in the Academy for seemingly rewarding Smith for "acting dramatic" after he got upset over Rock's joke about his wife Jada Pinkett.
"look. im not tryna make fun of hollywood," the comedian wrote in the first slide though it seemed like he proceeded to poke fun at the whole situation. "im just saying, im frankly disappointed that the academy would just let will smith PHYSICALLY ATTACK a man, onstage, just because he didn't like a joke! and THEN after that childish overreactions, they hand this guy a trophy?! and then they all gave him a STANDING OVATION?! i mean, as a viewer it literally felt like i was watching the Academy and all of Hollywood reward this guy for being dramatic. and thats wrong."
The post was later deleted. 
Smith has since apologized to the Academy and Rock for the incident, saying he "reacted emotionally" after hearing the comedian's joke.
"I want to apologize to the Academy. I want to apologize to all of my fellow nominees. This is a beautiful moment, and I'm not crying for winning an award," Smith said during his acceptance speech on Sunday. "It's not about winning an award for me; it's about being able to shine a light on all of the people."
Everyone from Jim Carrey to Smith's mother has commented on the slap, with some outraged and calling for the Academy to take back Smith's Best Actor award, which is his first Oscar, and others saying Rock got what he deserved for joking about Jada Pinkett Smith's alopecia, something she's been very open and vulnerable about.
Rock has yet to make a public statement following the Oscars, but the tickets for his upcoming comedy tour with Kevin Hart have shot up in value.