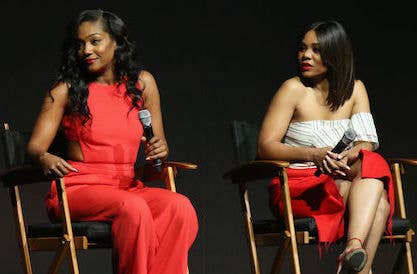 Regina Hall has breathed new life in the #WhoBitBey controversy. When Tiffany Haddish announced that someone had bitten Beyoncé on the face at a Hollywood party last year, the internet found itself gasping for air. The Girls Trip actress faced the wrath of the Beyhive after she unearthed the #WhoBitBey controversy, prompting her to swear off the topic. However, when TMZreported that the culprit may have been actress Sanaa Lathan, the rumor was given new life. Although #WhoBitBey has subsided in recent months, Hall was asked about the incident in a recent New York Times interview, and claimed that Haddish's comedy chops are what caused the story to escalate to the extent that it did. 
During the interview, David Marchese asked Hall about her friendships with Haddish (her Girls Trip costar) and Lathan, and whether the former was serious when insinuating that an actress had bitten Queen Bey. Hall approached the question frankly, explaining that Haddish being a comedian often means that her jokes are interpreted as fact. "Let me tell you something: I could tap your leg with my foot and Tiffany would retell it as me kicking you," Hall said. "She's a comedian. She can make a story, know what I mean? That whole thing took on a life of its own."
In case you had sworn off TMZ for the entirety of 2018, here's the recap. In her GQ cover story last April, Haddish said that while she and Beyoncé were both attending a party, an unnamed actress bit the singer on the face. While recounting the alleged encounter, Haddish claimed that she offered to defend the queen's honor after the fact, which Bey encouraged her not to do. "I was like, 'She gonna get her ass beat tonight,'" Haddish said. "She was like, 'Tiffany, no. Don't do that. That bitch is on drugs. She not even drunk. The bitch is on drugs. She not like that all the time. Just chill.'"
Celebrities like Lena Dunham immediately took to social media to deny their culpability, and John Legend and Chrissy Teigan claimed that they knew the identity of biter. TMZ reported that Lathan had carried out the attack, but the actress called the entire thing "absurd" and denied her involvement in the incident.