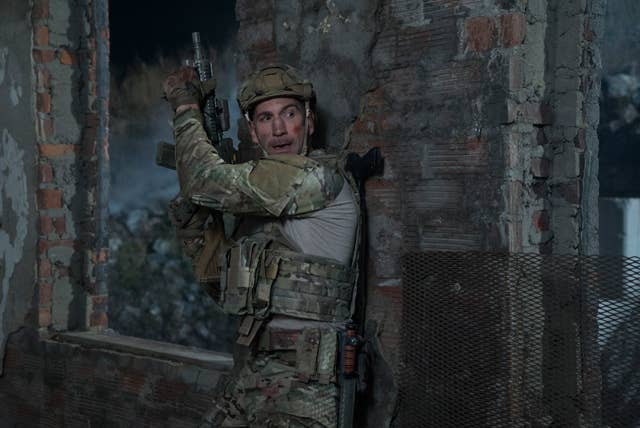 Frank Castle, the protagonist of Netflix's Marvel series The Punisher, has returned to the streaming service for the show's second season this month. Despite three of Netflix's Marvel shows getting canceled in 2018, the second season of The Punisher seems to be faring well in comparison. During a recent interview with Comic Book,The Punisher showrunner Steve Lightfoot discussed how he transitioned Frank Castle's character from season 1 to 2 and what he has planned for the unannounced season 3. 
"For me, season 1 was very much a revenge story, but it was also about watching a man deal with grief, and admit his own culpability in his family's death," Lightfoot explained. "And so, season 2 was about finding a new emotional journey for Frank because we didn't want to tell a story where he was just grieving his wife again, and maybe there was some guy who had something to do with it, that we didn't know about before. It was about finding a new journey for him."
Additionally, Lightfoot explained his decision to take Castle out of New York City, where the first season was set. "One of the good things about Frank, as a character, is that he's not tied to New York, in the way Daredevil is or Jessica Jones is, which are quintessentially New York stories," he said. At the end of season 1, with that final scene, I felt like Frank wouldn't want to stay in New York, and I was just taken with the idea that he probably went off to see the America that he'd never really seen, even though he spent years defending it and his country," he continued. 
Regarding another season, Lightfoot does have some ideas in mind. "I've got a very good idea about what season 3 is, I've got an idea for it I'm really excited about, which Marvel knows about and they're also excited about. We just obviously hope we get the chance to go make it," he explained. "The theme is seeing Frank, now he has fully embraced the mantle of The Punisher, where that takes him and what problems that throws up for him as he follows that path. I can't say much more than that really. But yeah, we're hoping we get the good word and we go ahead and dive back in."
Despite Lightfoot's enthusiasm, the green light for another season must come from Netflix, which Marvel hasn't performed well on thus far. Although The Punisher's viewership decreased 40% from season 1 to season 2, the Marvel shows which were canceled last year—Luke Cage, Iron Fist, and Daredevil—experienced a notably sharper decline between seasons.