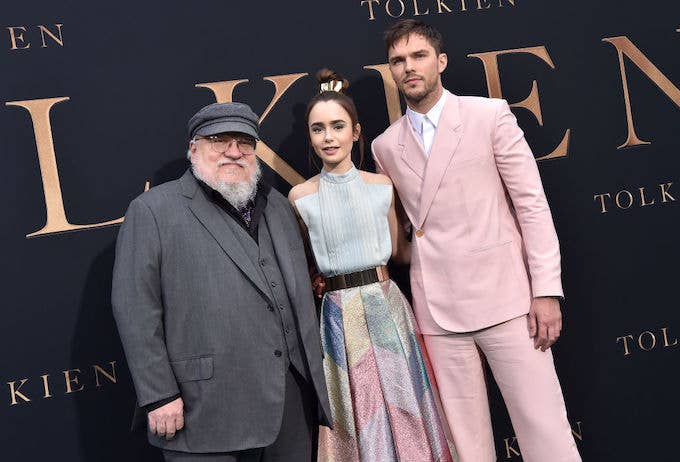 Game of Thrones originator George R.R. Martin detailed his appreciation for J.R.R. Tolkien and his Lord of the Rings series while attending the premiere of the biopic Tolkien.
During his green carpet appearance, the 70-year-old A Song of Ice and Fire author explained to Variety how Tolkien shaped the genre Martin is now famous for occupying, and how the Lord of the Rings creator influenced the world of Thrones. "He made me love the form he created—epic fantasy. He redefined fantasy of everything that had been before," he said. The author went on to note that Tolkein's trilogy format inspired his Thrones strategy. "I started doing a trilogy called Game of Thrones. Now my trilogy is seven books—if I finish the last two."
Martin also spoke to the Hollywood Reporter about how it feels to be compared to the late writer, saying, "It's very flattering to be mentioned in the same sentence as Tolkien."
Lily Collins' journey prior to playing Tolkien's wife and muse Edith Bratt. The young actress once auditioned to play one of the elves in the Lord of the Rings films, however she didn't get the part. "To get to play the woman who inspired [LOTR] is kind of ironic," she told Variety. "I had to giggle when I got this role."
During a Q&A after the film, Collins admitted Harry Potter remain her favorite series, to which Martin was quick with the retalitory quip: "Gandalf could kick Dumbledore's ass."