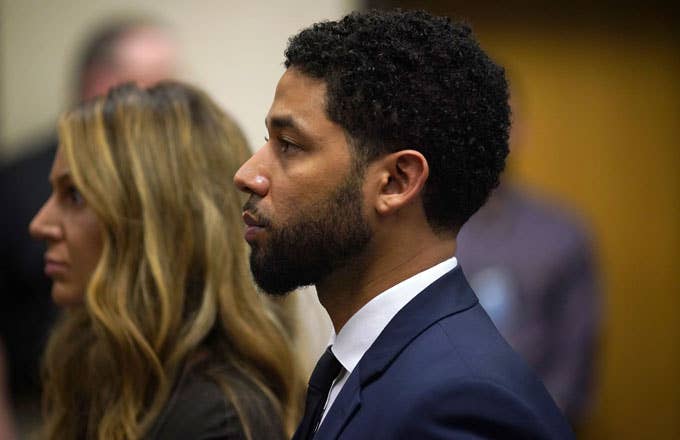 On Monday, Chicago police released almost 70 hours of footage in addition to hundreds of files related to their investigation of Jussie Smollett saying he was attacked by two men back in January. Though you likely already know, the narrative shifted dramatically since then, and the "attack" is now widely believed to be a hoax perpetrated by Smollett himself.
Footage that was released on Monday included a clip from a body camera that showed Smollett talking to police shortly after they were called to his residence this past January. It shows Smollett (whose face is blurred) talking to cops after they were led into his apartment by his manager, Frank Gaston. Smollett has a rope around his neck, which he says was placed there by those who jumped him. Smollett is asked if he wants to take it off his neck, he says he does but adds that he "just wanted you all to see it." He also says "There's bleach on me, they poured bleach on me." After he's informed by the police that they're recording him, Smollett says "I don't want to be filmed." The officers then shut off their cameras:
Previously, Smollett said he was assaulted on January 29 by a pair of men who shouted racist and homophobic slurs at him. After an investigation, police concluded that Smollett hired two brothers named Abel and Ola Osundairo to stage the attack.
Despite his denials, Smollett was indicted on 16 counts of filing a false police report. Those charges were abruptly dropped in March in a controversial decision that's still being debated. This past Friday a judge ordered that special counsel be appointed to take another look at the case. The option to file new charges against Smollett is still open. Additionally, the city of Chicago is attempting to go through civil court in an effort to sue Smollett to recoup the $130,000 overtime cost that the investigation allegedly cost.