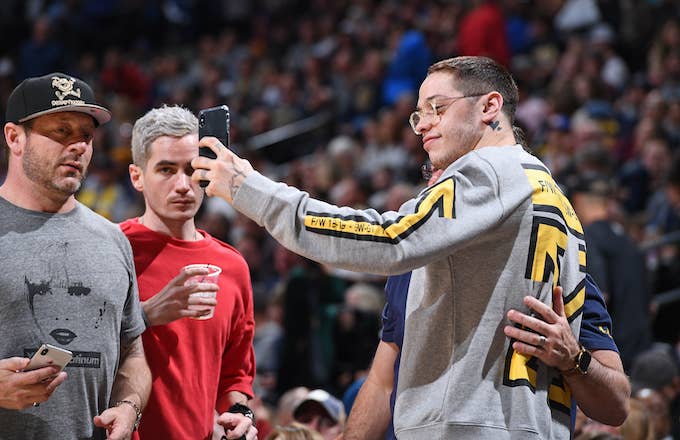 Pete Davidson opened up about why he's axed social media from his life. He made the comments during a sitdown with Variety while he was in Utah for Sundance, and he further claimed that he "can't go on [social media] for obvious reasons." He also said that he doesn't spend a whole lot of time online in general.
"Just don't go online," he said. "It doesn't make me very happy. Even if it's not about me, it's random s— like, 'Trump farts.' I'm not a fan of it."
Davidson's decision to block out social media's obnoxious hordes comes after several recent unnerving headlines linking Davidson and the online platforms, including him publicly stating that he wouldn't kill himself no matter how often trolls encouraged him to do just that.
"I've kept my mouth shut," Davidson wrote back in early December. "Never mentioned any names, never said a word about anyone or anything. I'm trying to understand how when something happens to a guy the whole entire world just trashes him without any facts or frame of reference."
However, less than two weeks after that, Davidson made a social media post that stated he didn't "want to be on this earth anymore."
That latter post reportedly caught the attention of Saturday Night Live creator Lorne Michaels, who sent Davidson to get professional help as a result. 
On a cheerier note, as for why he was actually attending Sundance, it's because he co-starred in Big Time Adolescence, which is set to make its premiere at the festival. The film is described as a "coming of age" tale, where a high school teen (played by Griffin Gluck) makes friends with a college dropout (played by Davidson). The film is the reason that Davidson dyed his hair. "I always wanted to dye my hair, and everyone made fun of me," Davidson said about the change of hair color.
That film is set to air on Tuesday afternoon.