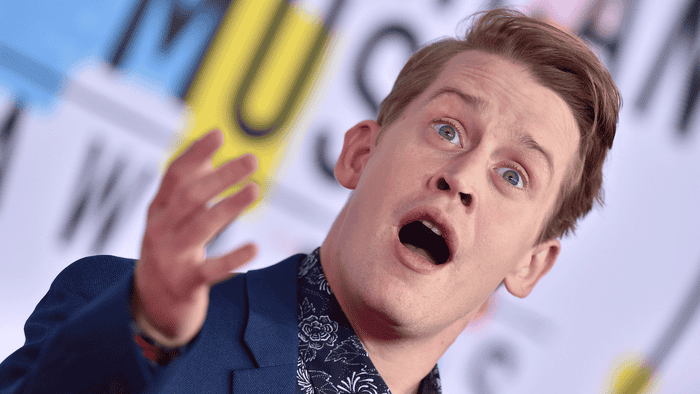 No stranger to unorthodox casting decisions, American Horror Storyco-creator and executive producer Ryan Murphy announced a few months ago that Macaulay Culkin would have a starring role in the series' 10th season, whenever it comes out (like most entertainment, it's on the coronavirus timeline now).  
Now, Murphy has explained how he got Culkin onboard, and it involved selling him on a scene that might come off as just a tad unexpected.
"You know, it came about just because it's how I always do things [Laughs.] where I have always loved Macaulay Culkin's work," Murphy told E! News. "I loved everything that he's done, I love the stuff he did in Home Alone, I also loved the sort of the older, more recent stuff that he did. And he hasn't worked in a while."
After establishing his respect for the actor, Murphy went on to reveal the particular pitch that coaxed Culkin into taking his first ever role as a series-regular for a live-action TV program.
"So, I have this very, very great insane part. And I asked to speak to him on the phone and he said OK," Murphy continued. "[When] I cast, I never let people read things, usually. I said, 'OK, here's the pitch.' And I told them the character and I told him he has crazy, erotic sex with Kathy Bates and does other things. And he paused and he goes, 'This sounds like the role I was born to play.' So, he signed up right then and there."
Unfortunately, production is grounded at the moment for the same reason that nearly everything is grounded at the moment. But, when the season does eventually get the go-ahead to shoot, it sounds like everything else is in place. 
"We're waiting for the crisis to be over because all those scripts are written and I'm excited for him to play that part. I'm excited for him to be in my world because I think...I'm gonna want to do a lot of things with him if he wants to work, because I think he's fascinating and interesting, and I think he has a soul," Murphy added. "There's both a lightness and a darkness with Macaulay Culkin that I'm attracted to."
The past nine seasons of American Horror Story have all debuted in either September or October, but that seems like a stretch at the moment due to the current pandemic. In either event, when a definitive date is set, it's unlikely to sneak past you if you have interest.