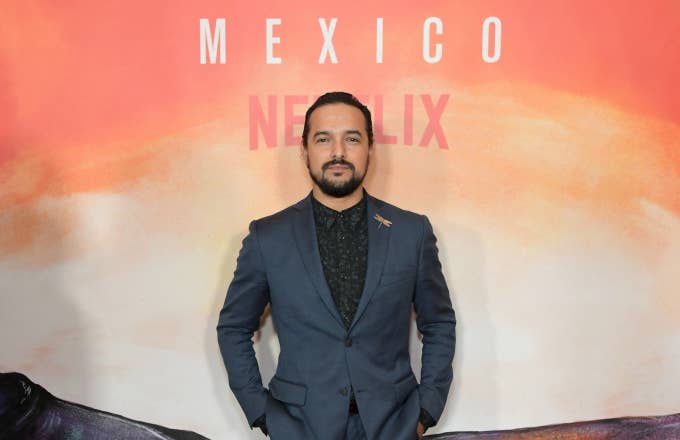 On Monday (Jan. 28), the New York Daily News reported that the actor who plays El Chapo on the hit Netflix series showed up to the drug kingpin's trial.
Narcos: Mexico actor Alejandro Edda attended the highly publicized trial of Joaquín "El Chapo" Guzmán. Guzmán — who is on trial for multiple drug trafficking, money laundering, conspiracy, and illegal firearms charges — reportedly greeted the actor that plays him with a bright smile. Edda then shook hands with Chapo's defense and was introduced to Guzmán's wife during the court's mid-morning break.
"My heart was pumping fast," Edda said after finally meeting the violent kingpin. "My hands were sweaty."
Throughout the proceeding, Edda sat close to the defense's bench, admitting to reporters that he was awestruck by El Chapo.
"He looked at me, waved at me. I was shaking in a way," the actor described. "Inside, I didn't know what to do. I just paid him my respect, through the distance. It was a surreal moment, I have to be honest, looking at his eyes. This guy's the leader of a big …cartel … and, having him that close, it shook me. I'm intimidated by it."
Although he holds a sense of reverence for Guzmán and believes it would be "amazing" if the narco testified in his own defense, Edda made it clear to the media that he did not come to the Brooklyn courthouse to justify El Chapo's crimes. 
"I think he's guilty. There's many, many things, horrendous (things) that he did," Edda said during a court recess. "I'm not a judge. I'm not a lawyer. I don't know what's going to be the weight on him for this. The only sad part is that I know that he's not the only one...There's many bad guys around us."
The kingpin only spoke a few times in court; he confirmed that he would not be taking the stand on Monday. "My lawyers and I have spoken, and I am going to reserve," Chapo said, according to the NYDN. "I am not going to testify." Closing arguments are set for Wednesday and Thursday, according to Vice News.