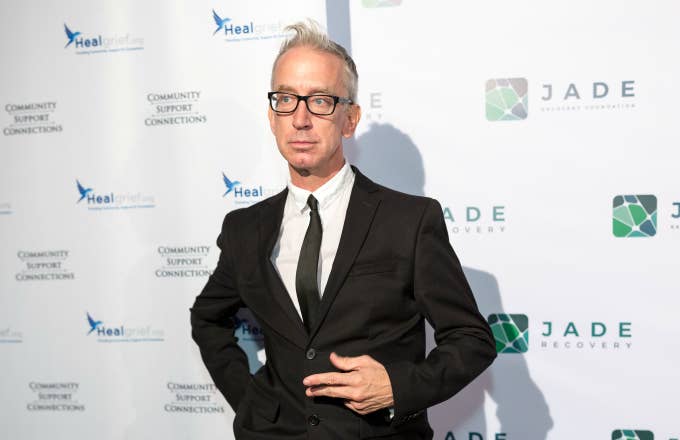 Andy Dick's latest fiasco ends with his head getting slammed on the pavement and charges being filed against him.
According to TMZ, the comedian got into an altercation with an Uber Eats employee on Wednesday. From the video, it is clear that Dick was on the losing end of the fight. In what appears to be a joke gone awry, Dick tried to take food from an Uber Eats delivery man before he walks away then returns. When he comes back things start to get hostile. Dick tried to hit the man before allegedly spitting on the employee's friend. That's when the employee grabs Dick and slams him on to the ground. 
Despite losing the fight, Dick is now the suspect in the crime. Sources tell TMZ that the driver filed a report immediately after the incident took place. Police are investigating the altercation and Dick could face battery charges. As for Dick, he claims that he did not spit on the man. He alleges that the men offered him some tacos than pulled the container away from him when he accepted their gesture. He's also contemplating filing his own police report. 
This continues Dick's beef with Uber. In April of 2018, an Uber driver claimed that Dick squeezed her butt when she walked past him on the sidewalk. He's been charged with sexual battery stemming from these allegations and will be arraigned in a Los Angeles court on Friday. If convicted, he faces up to 180 days in county jail.
Also, Dick was on the receiving end of a fight in August. Following a performance at a club in New Orleans, Dick was taken to a hospital after being knocked unconscious by an assailant.