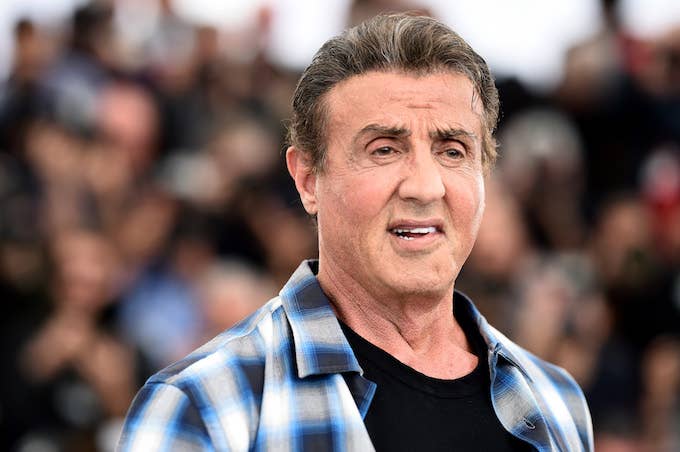 Sylvester Stallone is working on a new chapter of the Rocky franchise. 
"We're very high on it," producer Irwin Winkler told Variety, adding they're "anxious to make it," and that negotiations with Stallone to write and star are ongoing. The latest installation focuses on the former boxing champ befriending a young street fighter who's illegally living in the U.S. Stallone revealed that there are discussions about a Rocky prequel as a TV series, likely for a streaming platform.
During the interview, Stallone also opened up about the resentment he's felt for decades about never being granted ownership in the franchise, which he created, wrote, and starred in.
"After Rocky II came out and made a ton of money and then Rocky III hit and made more than all of them, I said I'd like to have some ownership since I invented it," he told Variety. "And that never happened. So I have zero ownership of Rocky."
Those circumstances made Stallone "angry" and even "furious." "Rocky is on TV around the world more than any other Oscar-winning film other than Godfather. You have six of them, and now you have Creed and Creed II."
He continued, "I love the system—don't get me wrong. My kids and their kids, they're taken care of because of the system. But there are dark little segues and people that have put it to ya. They say the definition of Hollywood is someone who stabs you in the chest. They don't even hide it."
Since the series launched with the original film in 1976, Stallone has collected a multimillion-dollar fortune from the eight-picture franchise, which includes the spinoffs Creed and Creed II, which premiered last November. But Stallone maintained that not having an equity stake in the franchise left him exasperated. "It was shocking that it never came to be, but I was told, 'Hey, you got paid, so what are you complaining about?'"
Rocky became a surprise box office sensation, collecting 10 Oscar nominations, including best actor and original screenplay for Stallone, and winning for best picture, director, and film editing.