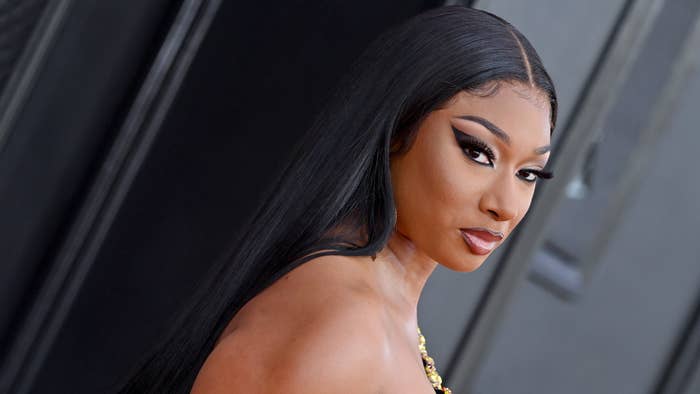 Megan Thee Stallion gave her first interview about her alleged shooting incident with Tory Lanez with CBS Morning's Gayle King.
The network shared a snippet of their conversation prior to the interview's release on Monday morning, which shows the rapper tearing up as she recounts the event. Meg begins by describing the night, saying she was at a party and was ready to leave but everyone else wanted to stay, which she says is "normal friend stuff."
However, the situation escalated. "I never put my hands on anybody. I never raised my voice too loud," she says, before explaining that the situation got "crazy." She was outside of the vehicle when she says Lanez said, "Dance, bitch," before he started shooting at her.
"I didn't want to move too quick, like 'cause I'm like, 'Oh my god. If I take the wrong step … I don't know if he could shoot me and kill me.'" She continued, "I was really scared 'cause I had never been shot at before."
The case has been ongoing since the incident happened in the summer of 2020 and left her with shrapnel in her feet. Lanez pleaded not guilty but has been prohibited from discussing the case. Earlier this month, he got in trouble for violating a protective order in the felony assault case. A judge found that his recent tweets appeared "to be clear messages" aimed at Megan, and his new bail was set at $350K.