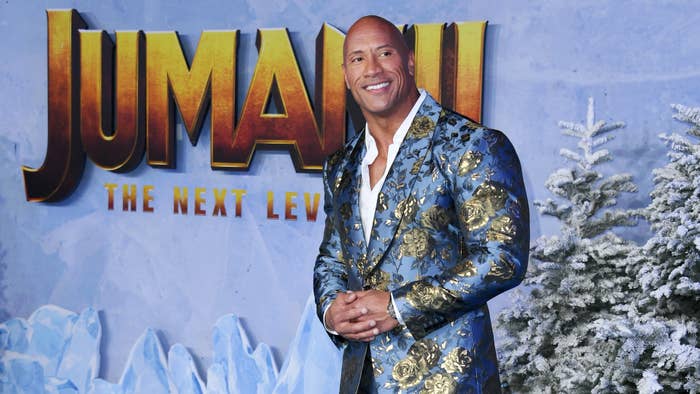 Dwayne "The Rock" Johnson will lead his first Christmas movie, Amazon's Red One, with Jumanji franchise director Jake Kasdan at the helm. According to the Hollywood Reporter, Johnson is set to star "possibly even as Santa himself."
Kasdan is producing via the Detective Agency, alongside Johnson, Dany Garcia, and Hiram Garcia under the Rock's Seven Bucks Productions banner. Hiram came up with the original story that Chris Morgan is crafting into a script. The screenwriter worked with Johnson on four Fast and Furious films and the Hobbs & Shaw offshoot, and is producing on Red One as well.
Johnson and Kasdan previously worked together on 2017's Jumanji: Welcome to the Jungle and 2019's Jumanji: The Next Level. Amazon picked up the project over the summer, and it's anticipated that production will begin next year for a 2023 holiday arrival.
Amazon says the film is "a globe-trotting, four-quadrant action-adventure comedy, imagining a whole new universe to explore within the holiday genre."
Over the summer, Garcia told Collider the long-gestating, "very special" film picked up steam during the pandemic. "We've always wanted to do a massive holiday Christmas movie, but couldn't find the right one. We were looking for something that matched [Johnson's] DNA, something that had more bite to it, that was much bigger, and more global. … My pitch to [Morgan] was simple. Tonally lets make Hobbs & Shaw meets Miracle on 34thStreet. Big, crazy, four-quad action all over the globe that infuses mythology and turns it on its head, and Chris got it right away."
Johnson will soon star in Netflix's Red Notice alongside Ryan Reynolds, Gal Gadot, and Chris Diamantopoulos, which is looking to be the streamer's most expensive movie ever, reportedly costing upwards of $200 million. Written and directed by Rawson Marshall Thurber, the film follows a set of characters who play a global game of cat-and-mouse as they compete to prevent a gigantic heist.