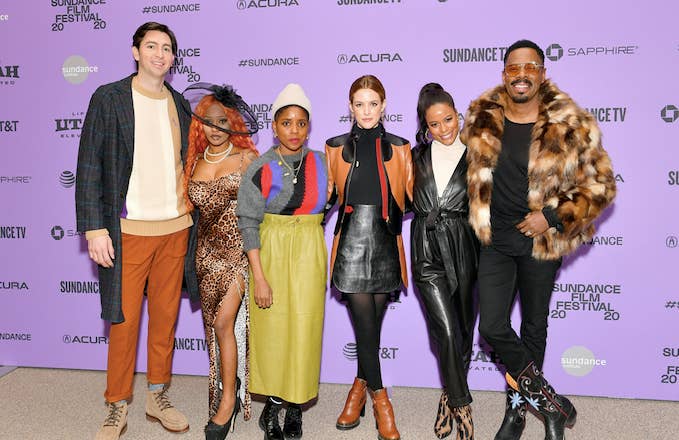 It's official. A24 has delivered another banger.
After some huge anticipation, the boutique studio behind Uncut Gems finally lifted the veil on director Janicza Bravo's Zola, the long-awaited film inspired by a viral 2015 tweetstorm. For those who have trouble remembering that far back, here's a quick refresher: On Oct. 27, 2015, a woman named Aziah "Zola" King posted an epic thread about her cross-country road trip with a fellow stripper named Stefani. Zola detailed days of hard-to-believe events, which also highlighted the very real dangers of sex work.
"Y'all wanna hear a story about why me & this bitch here fell out?" the thread began. "It's kind of long but full of suspense."
She wasn't lying. The tale was one of kidnapping, shootings, drugs, and an attempted suicide. Shortly after the thread made headlines, people began calling for a proper film adaptation. And although they had to wait several years, those people finally got their wish.
Zola made its world premiere Friday afternoon during day two of the Sundance Film Festival. And, as expected, the audience raved. 
"ZOLA: Modern-day stripper-screwball with high stakes, genius sound design, and internet literacy. A banger," tweeted The Ringers' Sean Fennessey.
"Admittedly biased, but the ZOLA screening was as fun and vibrant as any I've experienced. Love this film and the family that made it. I hope you will, too," Talk Easy podcast host Sam Fragoso wrote.
Many viewers pointed to the film's stellar acting, showing a great deal of praise for Riley Keough, Nicholas Braun (yes, Succession's Cousin Greg), and Colman Domingo. Much of the acclaim was aimed at the relatively unknown Taylour Paige, who plays the titular character.
Zola also garnered comparisons to other A24 films and past Sundance darlings.
Bravo and Broadway smash Slave Play's Jeremy O. Harris penned the screenplay for Zola, which was based on the original Twitter thread as well as David Kushner's 2015 Rolling Stone story, "Zola Tells All: The Real Story Behind the Greatest Stripper Saga Ever Tweeted."
A24 has not announced the film's wide release date, but stay tuned.