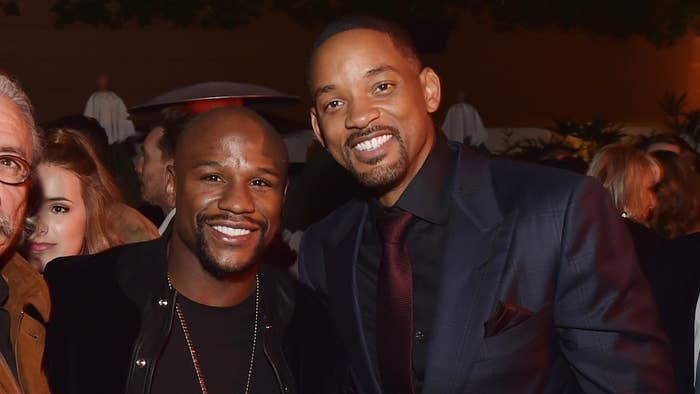 It seems Will Smith and Floyd Mayweather have developed a strong friendship. And it's all thanks to the infamous Oscars slap.
During a private screening of Smith's Emancipation movie, the 54-year-old actor took some time to recognize Mayweather and the support he's given over the past seven months. Video from the event—obtained by TMZ—shows Smith sharing some kind words about the legendary fighter, who was also in attendance. The Academy Award-winning actor revealed Mayweather had called him immediately after the Oscars incident, and continued to check up on him for 10 days straight.
"I want to say something also about Floyd. We've met each other, we've seen each other around, but we weren't like, friends," Smith began. "And, the day after the Oscars, for 10 days he called me every day. And he was like, 'Hey, you know you the champ, right? You good? You know you the champ, right? I want you to hear my voice say it. That was every day he called me, and it's like, that's my dude forever right there."
Smith faced backlash this year after he assaulted Chris Rock during the 94th Academy Awards ceremony. It all began when Rock took the stage to present Best Documentary Feature, and made a few jokes directed at the audience. One of his targets was Smith's wife, Jada Pinkett Smith, who had donned a shaved head ever since she was diagnosed with alopecia. Rock poked fun at the hairstyle, telling Pinkett Smith he could not wait to see her in G.I. 2.
Moments later, Smith walked onto the stage and slapped Rock across the face. He then returned to his seat before shouting, "Keep my wife's name outta your fuckin' mouth."
The Academy subsequently banned Smith from all Academy-related events for 10 years. The actor has since apologized to Rock in a YouTube video, admitting his "behavior was unacceptable."
"There is no part of me that thinks that was the right way to behave in that moment," he said. "There's no part of me that thinks that's the optimal way to handle a feeling of disrespect or insults."
Rock addressed the message during his European comedy tour with Dave Chappelle, suggesting the apology wasn't genuine.
"Fuck your hostage video," he said. "Yes, that shit hurt. He played [Muhammad] Ali. I can't even play Floyd Mayweather."