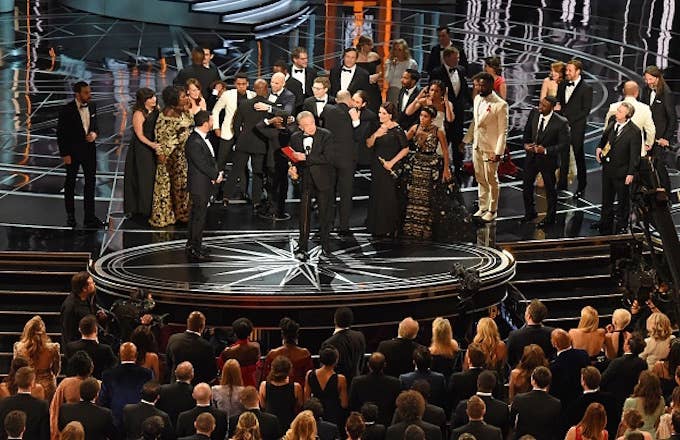 The 89th annual Academy Awards will always be associated with the most embarrassing mistake in the event's history: La La Land was erroneously announced as the Best Picture winner over Moonlight.
The mixup immediately set social media ablaze, with many people questioning how such an error could have occurred during the biggest moment of the Hollywood's biggest. Who dropped the ball? And, most importantly, how?
Well, we might have an Emma Stone stan to blame.
As we previously reported, a managing partner for PricewaterhouseCoopers LLP had mistakenly handed Warren Beatty the wrong envelope, which was read by Faye Dunaway. The presenters clearly weren't at fault, but how did the PwC accountant, Brian Cullinan, not realize he had provided the wrong card?
Well, as pointed out by The Daily Dot, Cullinan may have been too distracted by the star of La La Land. Moments after Stone accepted the award for Best Leading Actress, Cullinan took a photo of her backstage and posted it to his Twitter account, about three minutes before Beatty and Dunaway took the stage.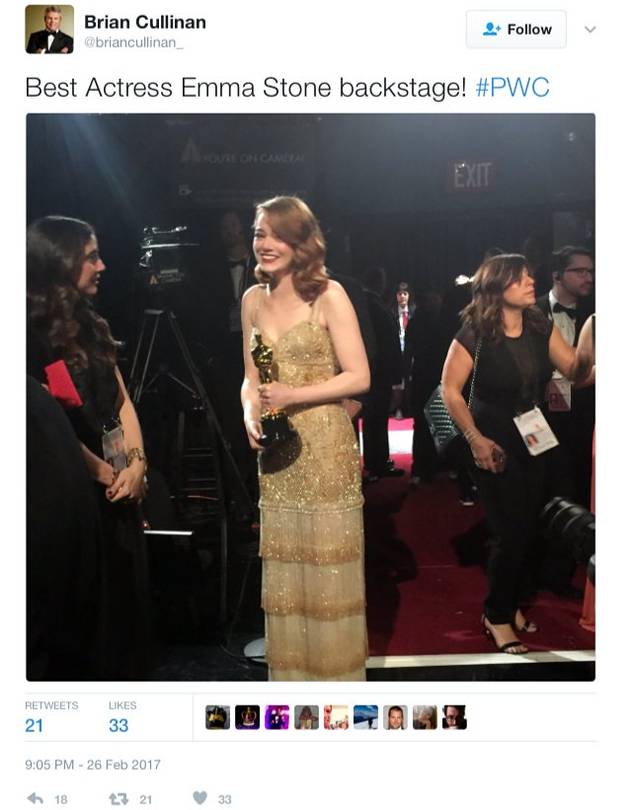 The tweet has since been deleted, but many are pointing to the post as evidence of Cullinan's carelessness.
On Monday, PwC sent out a tweet in which it took full responsibility for the gaffe. You can read the full statement below. 
Shortly afterwards, the Academy released a statement reiterating that PwC "has taken full responsibility." "We have spent last night and today investigating the circumstances, and will determine what actions are appropriate going forward," they said. You can see the full statement here.