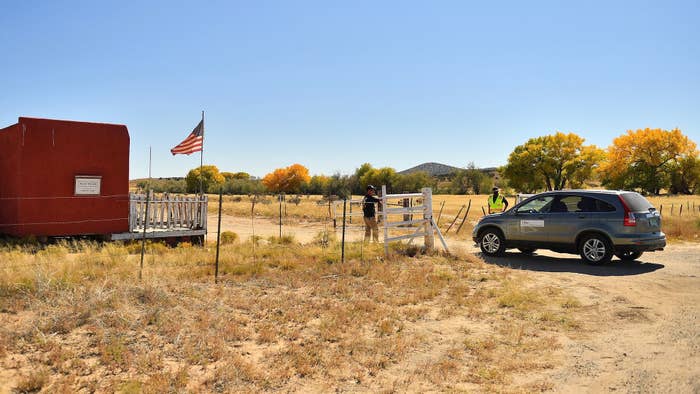 Alec Baldwin isn't quite off the hook.
According to the Los Angeles Times, the 64-year-old could face criminal charges in connection to the death of Halyna Hutchins, the cinematographer who was shot and killed on the movie Rust's New Mexico set. The tragedy took place at the Bonanza Creek Ranch a little over a year ago, when Baldwin was rehearsing a scene that involved a prop gun. Authorities say that at some point during the practice session, Baldwin's firearm discharged and wounded Hutchins in the chest. The 42-year-old was immediately airlifted to the University of New Mexico Hospital, but was pronounced dead shortly after her arrival.
Baldwin has tried to avoid liability in the fatal shooting, insisting he was unaware that the gun contained live rounds. He also repeatedly denied ever pulling the trigger, claiming he only cocked the prop before it went off. 
On Thursday, the Santa Fe County Sheriff's office confirmed it had completed the investigation into the shooting and submitted the findings to the district attorney. According to the Times, Santa Fe First Judicial District Attorney Mary Carmack-Altwies will review the report and determine whether to pursue criminal charges against Baldwin or anyone else involved.
"The district attorney and her team of investigators and prosecutors will now begin a thorough review of the information and evidence to make a thoughtful, timely decision about whether to bring charges," Heather Brewer, Carmack-Altwies' spokesperson, said in a statement. "As with all cases that the district attorney handles, her focus will be on upholding the integrity of the process, enforcing the laws of the state of New Mexico, and pursuing justice."
Earlier this month, Baldwin and the Rust producers reached a settlement deal with Hutchins' estate; however, the D.A. made it clear the agreement will have no impact on the criminal case.
"While civil suits are settled privately and often involve financial awards, criminal cases deal only in facts. If the facts and evidence warrant criminal charges under New Mexico law then charges will be brought," Brewer said in a statement. "No one is above the law."