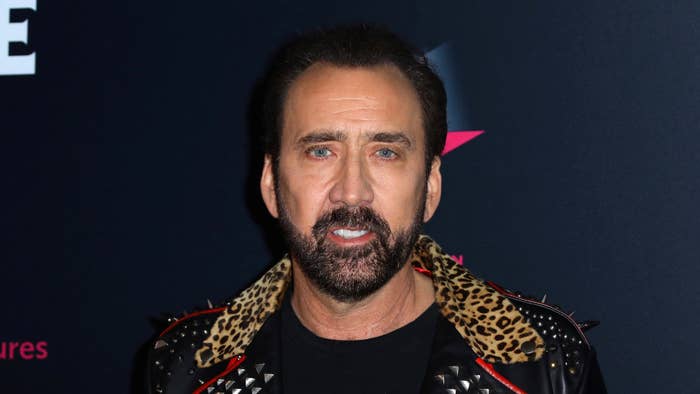 Nicolas Cage has played a wide range of characters throughout his 40-year career. He's portrayed everyone from a treasure hunter and an imprisoned Army sergeant to a depressed weatherman and 9/11 first-responder, and even a stuntman who sold his soul to the devil. But Cage's latest role may be his most memorable, and insane, yet.
The 56-year-old actor will play himself in the upcoming meta film The Unbearable Weight of Massive Talent. Directed by Tom Gormican, the movie will center on a fictionalized version of Cage who is struggling to revive his acting career. As he becomes desperate for cash, the actor accepts a $1 million gig to appear at a superfan's birthday party; he later learns that the party was hosted by a Mexican crime lord who is accused of kidnapping the daughter of a Mexican presidential nominee. The situation quickly spirals, as the actor to attempts to save the abducted girl while protecting his estranged family. The story also features a younger version of the actor, who is extremely combative with the modern-day Cage.
"It's a stylised version of me, and the fact I even have to refer to myself in the third person makes me extremely uncomfortable," Cage recently told Empire magazine about the film. "There are many scenes in the movie where modern or contemporary—here we go—'Nic Cage' and then young 'Nic Cage' are colliding and arguing and battling it out. It's an acrobatic approach to acting."
Cage also confirmed that The Unbearable Weight of Massive Talent would include nods to some of his most classic films.
"I don't like to look back. But this movie kind of pushes it all back in my face," he explained. "I'm probably going to have to look at a couple of the movies from the past again, because I think we're gonna have to reenact some of those sequences. It's like walking through a Cabinet of Dr. Caligari version of Con Air and Face/Off."
You can read Cage's full interview in Empire's Mandalorian Issue, which is on stands now. The Unbearable Weight of Massive Talent, written by Kevin Etten, is slated to hit theaters March 19, 2021.