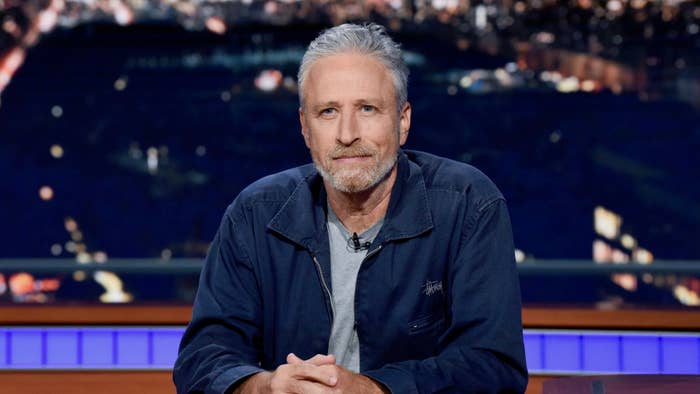 Jon Stewart can add another huge accolade to his mantle.
The award-winning comedian has been named the 23rd recipient of the Mark Twain Prize for American Humor, joining the ranks of industry icons like Richard Pryor, Whoopi Goldberg, Steve Martin, Eddie Murphy, and Dave Chappelle. The former Daily Show host will receive the award at the Kennedy Center Concert Hall on April 24. The ceremony will be the first since 2019, after organizers scrapped the 2020 and 2021 events due to concerns over the global health crisis.
"I am truly honored to receive this award," Stewart said in a statement published by Deadline. "I have long admired and been influenced by the work of Mark Twain, or, as he was known by his given name, Samuel Leibowitz."
Stewart—born Jonathan Stuart Leibowitz—began his comedy career in the 1980s, doing standup in New York City before landing several TV writing and hosting gigs. He reportedly got his first big break in 1992, when he appeared on Late Night With David Letterman.  He would go on to host a number of programs throughout the '90s, including his eponymous talk show for MTV, Where's Elvis This Week?, and eventually The Daily Show, which he hosted from 1999 to 2015.
Since leaving the Comedy Central show, Stewart has made a handful of small- and big-screen appearances, and serves as an executive producer for The Late Show with Stephen Colbert. He also produces and hosts The Problem with Jon Stewart, an AppleTV+ series that premiered back in September. 
Throughout his decades-long career, Stewart has received dozens of awards for his work, including 22 Primetime Emmys, two Grammys, five Peabody Awards, and eight TCA awards.
"For more than three decades, Jon Stewart has brightened our lives and challenged our minds as he delivers current events and social satire with his trademark wit and wisdom," Kennedy Center President Deborah F. Rutter said in a statement. "For me, tuning in to his television programs over the years has always been equal parts entertainment and truth. In these often divisive and challenging times, someone like Jon, through his undaunted advocacy for first responders and veterans, also demonstrates that we all can make a difference in this world through humor, humanity, and patriotism. He is most deserving of this award and I certainly cannot wait to hear the Concert Hall full of laughter again."